Tracing the Progress toward the ASEAN Economic Community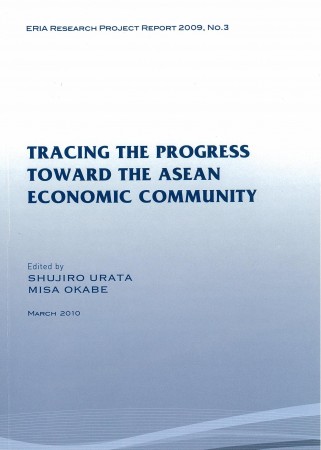 List of Project Members
DR.SHUJIRO URATA (PROJECT SUPERVISOR): Professor, Graduate School of Asia-Pacific Studies,Waseda University, Japan; Senior Researcher Advisor to the Executive Director, Economic Research Institute for ASEAN and East Asia (ERIA), Indonesia.

DR. MISA OKABE : Associate Researcher, Economic Research Institute for ASEAN and East Asia (ERIA), Indonesia.

DR. PHILIPPA DEE: Consultant, Crawford School of Economics and Government, Australian National University, Australia.

DR. PATRICIA SOURDIN: Adjunct Professor, School of Advanced International Studies, The Johns Hopkins University Bologna Center, Italy.

DR. RICHARD POMFRET: Professor, School of Economics, University of Adelaide, Australia.

MR. SHAZALI SULAIMAN: Partner, KPMG, Brunei Darussalam.

DR. CHAP SOTHARITH: Research Director, Cambodian Institute for Cooperation and Peace (CICP), Cambodia.

DR. RAYMOND ATJE: Head, Department of Economics, Centre for Strategic and International Studies (CSIS), Indonesia.

DR. LEEBER LEEBOUAPAO: Deputy Director General, National Economic Research Institute (NERI), Lao PDR.

DR. ZAKARIAH ABDUL RASHID:Executive Director, Malaysian Institute of Economic Research (MIER), Malaysia.

DR. KAN ZAW: Rector, Yangon Institute of Economics (YIE), Myanmar.

DR. JOSEF T. YAP: President, Philippine Institute for Development Studies (PIDS), the Philippines.

DR. HANK LIM: Senior Research Fellow, Singapore Institute of International Affairs (SIIA), Singapore.

DR. WISARN PUPPHAVESA: Advisor, Thailand Development Research Institute (TDRI), Thailand.

DR. VO TRI THANH: Deputy Director General, Central Institute of Economic Management (CIEM), Vietnam.
Full Report
Contents
Chapter 1. Overview: Tracing the Progress toward the ASEAN Economic Community
Chapter 2. Services Liberalization toward the ASEAN Economic Community
Chapter 2. Appendix1: ERIA Trade in Services Sectoral Questionnaire- Air Transport Services Countries
Chapter 2. Appendix2: ERIA Trade in Services Sectoral Questionnaire- Maritime Transport Services
Chapter 2. Appendix3: ERIA Trade in Services Sectoral Questionnaire- Telecommunications
Chapter 2. Appendix4: ERIA Trade in Services Sectoral Questionnaire- ASEAN Single Window
Chapter 3. Trade Facilitation toward the ASEAN Economic Community
Chapter 4. Investment Climate Study of ASEAN Member Countries
Chapter 5. Background Data for Constructing Quantitative Measures
Chapter 5. Tables: Air transport services
Chapter 5. Tables: Maritime services
Chapter 5. Tables:Telecommunications Services
Chapter 5. Tables: Single Window
Chapter 5. Tables: Trade Costs
CHOOSE FILTER