ERIA FRAMES | July 2018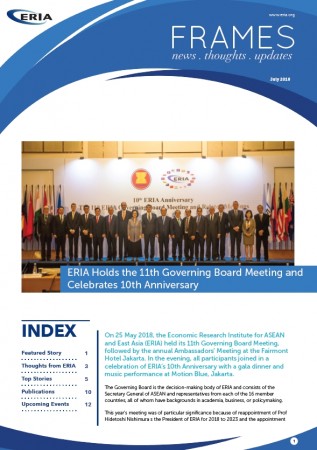 On 25 May 2018, ERIA held its 11th Governing Board Meeting, followed by the annual Ambassadors' Meeting at the Fairmont Hotel Jakarta. In the evening, all participants joined in a celebration of ERIA's 10th Anniversary with a gala dinner and music performance at Motion Blue, Jakarta. Read more.
On 7 June 2018, ERIA signed a memorandum of understanding (MoU) with Lembaga Ilmu Pengetahuan Indonesia (LIPI—the Indonesian Institute of Sciences), a state-owned research institute based in Jakarta, to enhance research capacity and to improve the effectiveness of the dissemination of research findings. Read more.
The Asia Infrastructure Investment Bank (AIIB) held its third Annual Board of Governors' Meeting in Mumbai, India from 25 to 26 June 2018. Ms Anita Prakash, ERIA's Director General for Policy Design, participated in the meeting as the moderator of Asian Infrastructure Forum's Workshop 5 – 'Advancing Together: ASEAN Infrastructure Development.' Read more.
Click here to read the online version with the latest stories, publications, and events.
Click here to read and download the PDF version.
Click here to subscribe to ERIA Frames.