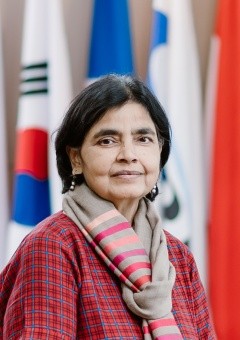 Anita Prakash
Senior Policy Advisor for International Economic Cooperation
Anita Prakash is Senior Policy Advisor in the Office of President of Economic Research Institute for ASEAN and East Asia (ERIA), Jakarta, Indonesia.
She provides policy and research support for bilateral and multilateral processes between ASEAN and its Dialogue Partners, the Trade Ministers meetings in ASEAN, the East Asia Summit, the Asia-Europe Meeting, and the G20.
Her policy research covers international trade and investment with a focus on GVCs and supply chains, and connectivity plans in Southeast Asia, East Asia, and between Asia-Europe and Asia-Africa. Her current research focus is on emerging economic architecture and supply chains in the Indo-Pacific.
Prior to her work at ERIA, she served as Director in the Government of India in the Department of Commerce and NITI Aayog. She was a Visiting Research Associate at the Graduate Institute, Geneva from 2016 to 2019. Important works include the plans for Asia-Africa Growth Corridor, and Asia-Europe Connectivity. Her latest work are the studies on 'GVCs and Investments: Changing Dynamics in Asia' and 'UK-ASEAN Trade: Strengthening the Supply Chain Linkages.' She is currently writing on 'Regional Integration, Connectivity, and New Supply Chain Linkages in Indo-Pacific.
She is an alumnus of Delhi University (M.Phil) and Australian National University (MBA).
Expertise
International Trade
GVCs and Supply Chains
Indo-Pacific Economic Architecture
Connectivity Plans
Education
2003

Master of Business Administration
Australian National University

1990

M. Phil in Political Science
Delhi University

1987

Master of Arts in Political Science
Delhi University
Experience
| | |
| --- | --- |
| 2009 - present | Economic Research Institute for ASEAN and East Asia |
| 1991 - 2009 | Government of India (Ministry of Commerce, NITI Aayog) |
| 2016 - 2019 | Visiting Fellow in the Global Governance Center at the Graduate Institute of International and Development Studies, Geneva |
Research and Publications
Ongoing:
Regional Integration in Indo-Pacific: Connectivity, Cooperation, and New Supply Chain Linkages (2022)
Published:
UK-ASEAN Trade: Strengthening the Supply-Chain Linkages (2021)
Global Value Chains and Investments: Changing Dynamics in Asia (2021)
13th Asia-Europe Meeting: Multilateral Cooperation for Resilient, Sustainable, and Rules-Based Future for ASEM. (For Govt of Kingdom of Cambodia- Chair of 13th ASEM, 2021)
Asia Africa Growth Corridor: Development Cooperation in Indo-Pacific. (Jointly edited with RIS; published by Springer Nature, October 2020)
Multilateral Cooperation for Investment Facilitation can Mobilise Infrastructure Funds and Link Needs of Investors, Governments, and People. (Task Force 3 on Infrastructure Investment and Financing. T20/G20 Saudi Arabia)
Emerging Economic Architecture in Indo-Pacific: Whither India (Perth US-Asia Center, 2020)
India-Myanmar-Thailand Trilateral Highway and Possible Eastwards Extension to Cambodia, Lao PDR and Viet Nam (2020)
ASEN-Russia Trade and Economic Relations: Prospects and Pathways. (Written for (report accepted by) ASEN-Russia Ministerial Meeting, 2019)
The Role of Industrialisation and ICT in Africa's Growth and Integration into Global Value Chains (ERIA Policy Brief, 2019)
Asia Africa Growth Corridor: Development Cooperation and Connectivity in the Indo-Pacific (ERIA Policy Brief, 2019)
Balancing Investment and Development Assistance in Africa: Growth Prospects from Asia–Africa Connectivity (ERIA Policy Brief, 2019)
The Asia–Africa Growth Corridor: Bringing together old partnerships and new initiatives (Observer Research Foundation, India. 2019)
Global Value Chains in ASEM Region (For Senior Official Meeting on Trade and Investment (SOMTI). Report presented to SOM, 2019).
Industrialization and Growth in Digital Age: Disruptions and Opportunities for Employment Led Growth in Asia and Africa (Task Force 7 on The Future of Work and Education for the Digital Age. T20/G20, Japan 2019)
Industrial Development and ICT in Africa: Opportunities, Challenges and Way Forward. (Task Force 5 on Cooperation with Africa. T20/G20, Japan 2019)
Industrialisation and ICT can Support Africa's Growth and Integration into Global Value Chains. (ERIA Policy Brief, 2019)
Importance of Industrialisation and Trade Facilitation for Employment-Led Growth in the Digital Economy (ERIA Policy Brief, 2019)
Global Value Chains in Asia and Europe (For ASEM SOMTI, 2019)
Brussels Report on Strengthening Asia Europe Connectivity: Drawing Synergy from Global Development and Governance Programmes (For 12th ASEM Summit, October 2018)
ASEM Sustainable Connectivity Monitor (For 12th ASEM Summit, 2018)
Asia Europe Connectivity Inventory (For ASEM APGC, July, 2018)
Balancing Investment and Development Assistance in Africa: Growth Prospects from Asia–Africa Connectivity (2018)
ASEAN-India Connectivity: Building Economic and People Linkages in Asia-Pacific and Beyond (2018)
Asia Africa Growth Corridor: A Vision Document (May, 2017)
Report of the Track 1.5 Dialogue with RCEP Negotiators in the 17TNC Meeting of RCEP at Kobe, Japan (March, 2017)
Asia Europe Connectivity Vision 2025: Opportunity and Challenges (2016)
ERIA Annual Research Summary and Policy Recommendations (Annual, from 2009 to 2016)
2nd Expert Roundtable Report on Regional Comprehensive Economic Partnership (2015)
Making Growth Inclusive: A South East Asian Experience for Accelerating Growth in LDCs (2015)
Economic and Technical Cooperation under the Regional Comprehensive Economic Partnership (2015)
Economic Transition in Myanmar: Towards Inclusive, People Centred and Sustainable Economic Growth (2013)