ERIA Holds the 11th Governing Board Meeting and Celebrates 10th Anniversary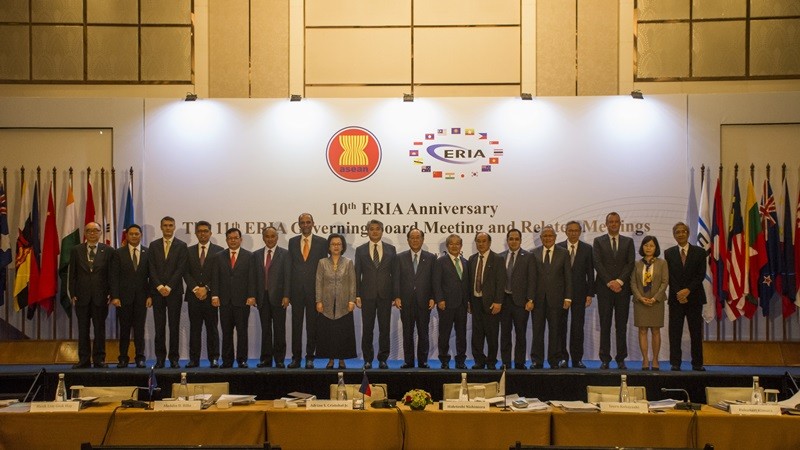 Jakarta, 25 May 2018: Economic Research Institute for ASEAN and East Asia (ERIA) held its 11th Governing Board Meeting, followed by the annual Ambassadors' Meeting at the Fairmont Hotel Jakarta. In the evening, all participants joined in a celebration of ERIA's 10th Anniversary with a gala dinner and music performance at Motion Blue, Jakarta.
The Governing Board is the decision-making body of ERIA and consists of the Secretary General of ASEAN and representatives from each of the 16 member countries, all of whom have backgrounds in academia, business, or policymaking.
This year's meeting was of particular significance because of re-appointment of Prof Hidetoshi Nishimura as the President of ERIA for 2018 to 2023 and the appointment of the new Chairperson of the ERIA Governing Board, Mr Adrian Cristobal, to replace Hon Dato Lim Jock Hoi, who now serves as the Secretary General of ASEAN.
Prof Nishimura was unanimously re-elected to lead ERIA for the third time. 'It is a great honour to be named President of this eminent organisation for another five years. As the regions of ASEAN and East Asia grow in global importance, the role of ERIA as an international organisation has become key in providing high-quality research and policy recommendations to the leaders,' said Prof Nishimura in his acceptance speech.
Mr Cristobal is the President of SteelAsia Manufacturing Corp. from the Philippines and previously served as ERIA's Governor from 2014 to 2016.
During the afternoon session, the Governors were joined by Ambassadors to ASEAN for presentations on several of ERIA's key projects. ERIA Chief Economist Prof Fukunari Kimura, Senior Policy Fellow Tan Sri Dr Rebecca Fatima Sta Maria, and Senior Policy Fellow for Energy and Environment Prof Jun Arima briefed the diplomatic corps on ERIA's future projects as well as on issues related to the international economy, including the future of the Trans Pacific Partnership.
In closing the day's events, all participants and special guests enjoyed an evening in celebration of ERIA's 10th anniversary.
Related Documents
Statement from the 11th Governing Board Meeting
ERIA Publications Catalogue 2018
Image Gallery
Related Articles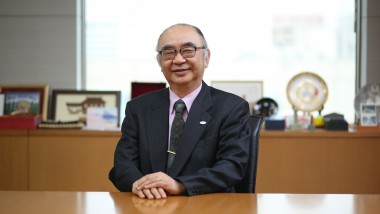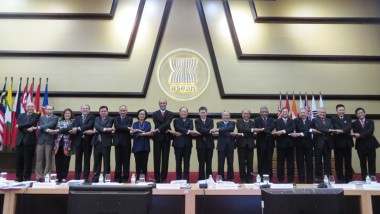 CHOOSE FILTER