ERIA FRAMES | June 2018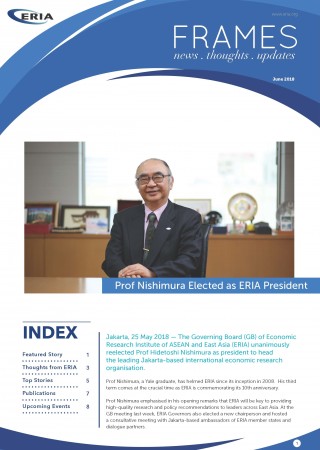 Jakarta, 25 May 2018 — The Governing Board (GB) of Economic Research Institute of ASEAN and East Asia (ERIA) unanimously reelected Prof Hidetoshi Nishimura as president to head the leading Jakarta-based international economic research organisation.
Prof Nishimura, a Yale graduate, has helmed ERIA since its inception in 2008. His third term comes at the crucial time as ERIA is commemorating its 10th anniversary. Read more.
'The concept of 'unbundling' is especially useful in formulating development strategies of a large country such as Indonesia. The further upgrading of unbundlings and the more effective utilisation of technological feedbacks among different levels of unbundlings will enable Indonesia to achieve rapid and equitable economic development,' said
Prof Fukunari Kimura
, Chief Economist at ERIA.
Read more.


ERIA held its first ever ERIA Coffee Talk on 3 May 2018, in which
Senior Economist Dr Dionisius Narjoko
shared his experience as a researcher with a group of undergraduate students from the Faculty of Economics and Business, Universitas Indonesia.
Read more.
Click here to read the online version with the latest stories, publications, and events.
Click here to read and download the PDF version.
Click here to subscribe to ERIA Frames.
CHOOSE FILTER