The Development Potential of the Content Industry in East Asia and the ASEAN Region (Phase 2)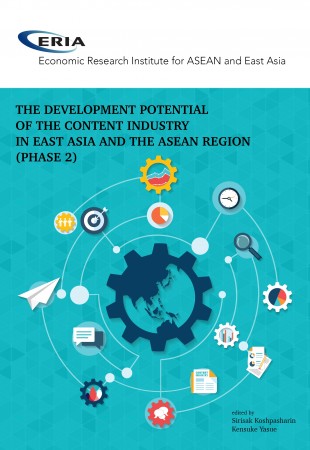 Executive Summary
Main Argument
Policymakers and experts from China, Indonesia, Japan, Korea, Malaysia, Philippines, Singapore, and Thailand who comprised the ERIA working group on content industry conducted a two-year research project to propose policy recommendations for developing the content industry in Asia.
Through interviews, questionnaire survey, and discussions among the members, the working group conducted a SWOT (strength-weakness-opportunity-threat) analysis of the content industry in each country and in the Asian region as a whole, and further evaluated policies for promoting the industry based on 'necessity of policies' and 'effectiveness of policies'.
The study proposes the following policy recommendations: (i) Communicate industrial development visions, master plans, statistics; (ii) Establish international agreements; (iii) Introduce incentive schemes to encourage investments; (iv) Establish governmental financing schemes to promote private financing; and (v) Introduce and review the management of intellectual property rights protection, and anti-piracy measures.
Full Report
Contents
Chapter 1. Background of this Study
Chapter 2. Market Trends in Content Industry
Chapter 3. Classification of Content Industry Promotion Policies
Chapter 4. Review of Policy Planning and Implementation
Chapter 5. Policy Evaluation: China
Chapter 6. Policy Evaluation: Indonesia
Chapter 7. Policy Evaluation: Japan
Chapter 8. Policy Evaluation: Korea
Chapter 9. Policy Evaluation: Malaysia
Chapter 10. Policy Evaluation: Philippines
Chapter 11. Policy Evaluation: Singapore
Chapter 12. Policy Evaluation: Thailand
Chapter 13. Policy Evaluation: Region - 8 Countries
Chapter 14. Policy Recommendations