ERIA FRAMES | August 2018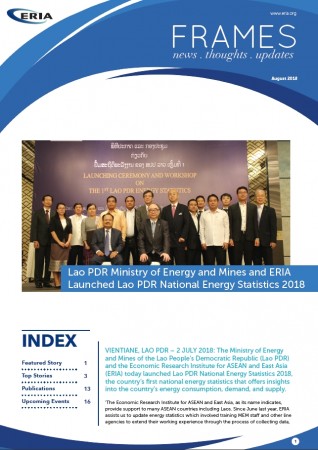 VIENTIANE, LAO PDR – 2 JULY 2018: The Ministry of Energy and Mines of the Lao People's Democratic Republic (Lao PDR) and ERIA launched Lao PDR National Energy Statistics 2018, the country's first national energy statistics that offers insights into the country's energy consumption, demand, and supply. Read more.
Insightful discussions about the current and future directions of research activities conducted by ERIA coloured the 10th ERIA Academic Advisory Council (AAC) meeting held in Jakarta on 5 July 2018. Read more.
On 9 July 2018, ERIA held a workshop on 'LNG Market Development in Asia' at the Fairmont Hotel in Jakarta, Indonesia. It was the first workshop on the study, which aims at identifying the measures to establish a transparent, liquid, and stable LNG market in Asia; exploring the areas where 'new' natural gas demand is expected; and discussing how to activate upstream investments as well as enhance cost competitiveness of LNG supply. Read more.
The American Chamber of Commerce in Indonesia (AmCham Indonesia) and ERIA have partnered up to hold a series of briefings on economic issues in ASEAN that affect the private sector. On 13 July, ERIA hosted the first of these briefings on 'Addressing Non-Tariff Measures in FTAs and RTAs'.
Read more.
Click here to read the online version with the latest stories, publications, and events.
Click here to read and download the PDF version.
Click here to subscribe to ERIA Frames.