Local Content Requirements Promises and Pitfalls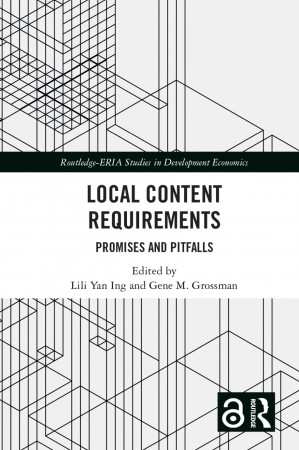 As anti-globalisation and geopolitical tensions continue to rise, the use of local content requirements (LCRs) around the world has become more noticeable than ever before.
The reasons for adopting LCRs range from ensuring domestic supply availability, job creation, and increasing value added to safeguarding national security. Ing and Grossman examine country-specific as well as firm-product level exercises to explain how LCRs reduce fair competition, resulting in lower trade and productivity, which ultimately lowers world economic output and overall human welfare. Countries around the world are investigated with specific attention to the United States, China, Indonesia, and resource-intensive countries, including mining-intensive ones. The book also presents product- and firm-level analyses, answering the question of why countries adopted LCRs and how LCRs actually affect the world economy.
This book is a useful resource that will interest policymakers, researchers, and advanced undergraduates interested in international trade, industrial policy, political economy, labour economics, and development economics.
The Open Access version of this book, available at
https://www.routledge.com/Local-Content-Requirements-Promises-and-Pitfalls/Ing-Grossman/p/book/9781032542232
About the book
Edited by Lili Yan Ing, Gene M. Grossman
264 Pages 16 B/W Illustrations
Series: Routledge-ERIA Studies in Development Economics
Table of Contents
1. Introduction by Gene M. Grossman and Lili Yan Ing
2. Localisation Measures: A Global Perspective by Dorothee Flaig and Susan F. Stone
3. Local Content Policies in the Mining Sector by Jane Korinek and Paulo De Sa
4. The Unintended Consequences of High Regional Content Requirements by Keith Head, Thierry Mayer, and Marc Melitz
5. Local Content Requirement Policies in China and Their Impacts on Domestic Value-added in Exports by Kun Cai and Zhi Wang
6. Indonesia's Local Content Requirements with its Trade and Investment Commitments by Michelle Limenta, Lili Yan Ing, Junianto James Losari, and Oscar Fernando
7. The Effects of Local Content Requirements on Trade: The Case of Indonesia by Yessi Vadila and David Christian
8. Quantifying the Impacts of LCRs on Firms: Evidence from Indonesia by Lili Yan Ing and Rui Zhang
Related Articles