ERIA FRAMES | May 2018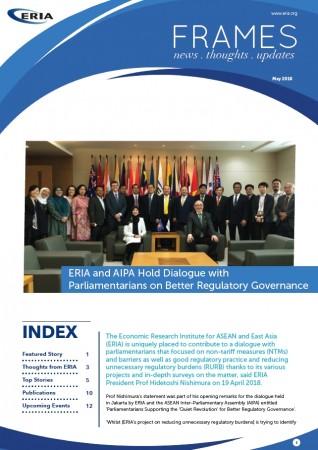 ERIA is uniquely placed to contribute to a dialogue with parliamentarians that focused on non-tariff measures (NTMs) and barriers as well as good regulatory practice and reducing unnecessary regulatory burdens (RURB) thanks to its various projects and in-depth surveys on the matter, said ERIA President Prof Hidetoshi Nishimura on 19 April 2018.

Prof Nishimura's statement was part of his opening remarks for the dialogue held in Jakarta by ERIA and the ASEAN Inter-Parliamentary Assembly (AIPA) entitled 'Parliamentarians Supporting the 'Quiet Revolution' for Better Regulatory Governance'. Read more.
One startling figure about recent global growth is that 82% of all wealth created in the last year went to the top 1%. After focusing on economic growth for a number of decades, developed and developing countries alike have been increasingly concerned with equality. While globalisation has led many developing countries to higher levels of income, it has also increased economic inequality. In Southeast Asian countries, indicators of inequality have been rising over the past fifteen years. Based on latest available estimates, the region as a whole lies towards the middle of the world distribution, behind Latin America and Sub-Saharan Africa.
Read more.


ERIA hosted a meeting between the President of ERIA, the Secretary-General of the Organisation for Economic Co-operation and Development (OECD), as well as Parliamentary Leagues for ERIA and OECD on 13 April 2018 in Tokyo.
Read more.
Click here to read the online version with the latest stories, publications, and events.
Click here to read and download the PDF version.
Click here to subscribe to ERIA Frames.