ERIA FRAMES | January 2018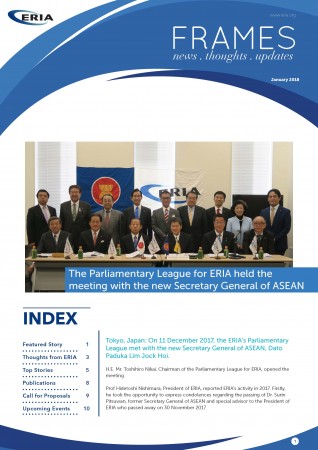 On 11 December 2017, the ERIA's Parliamentary League met with the new Secretary General of ASEAN, Dato Paduka Lim Jock Hoi. H.E. Mr Toshihiro Nikai, Chairman of the Parliamentary League for ERIA, opened the meeting. Prof Hidetoshi Nishimura, President of ERIA, reported ERIA's activity in 2017. Firstly, he took the opportunity to express condolences regarding the passing of Dr. Surin Pitsuwan, former Secretary General of ASEAN and special advisor to the President of ERIA who passed away on 30 November 2017. Read more.
A small delegation from the Economic Research Institute for ASEAN and East Asia (ERIA) paid a courtesy call to the new Energy Minister of Thailand, H.E. Dr Siri Jirapongphan, on the afternoon of 20 December 2017 in Bangkok, Thailand. Read more.
ERIA hosted an informal roundtable discussion with the Former Deputy Minister of Foreign Affairs of Japan Mr Hitoshi Tanaka on various issues related to the current and present issues of ASEAN and Indonesian economy, especially in relation to Japan, the trend of economic nationalism, and the ASEAN Economic Community 2025. Read more.
Click here to read the online version with the latest stories, publications, and events.
Click here to read and download the PDF version.
Click here to subscribe to ERIA Frames.