Energy Outlook and Energy Saving Potential in East Asia 2015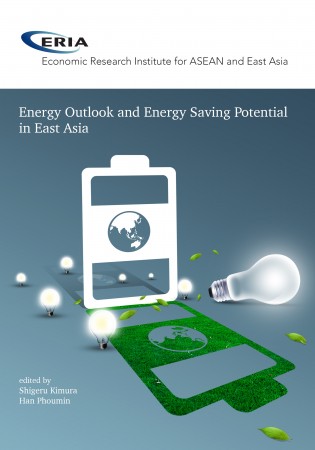 Sustained population and economic growth in the East Asia Summit region have significantly increased energy demand. Total final energy consumption is projected to increase by 1.7 times. Demand in the transport sector is projected to grow most rapidly, increasing by 3.4 percent per year, followed by that of industry average growth, and commercial and residential sectors' demand per year. Primary energy demand is projected to increase in 2035, with coal still having the largest share of primary demand.
Projections on power generation in the region for 2012-2035 reveal (i) a growth at 3.3 percent per year on average; (ii) the share of coal-fired generation will remain at about 60 percent of the total; (iii) that of natural gas will be stable at around 12 percent; (iv) nuclear share will increase to 10.5 percent in 2035, depending on nuclear energy developments in Japan, the People's Republic of China, and Viet Nam.
The increasing energy demand posted threat on energy security in the EAS region. Thus, potential energy saving is key to reduce energy demand and CO2 emissions. This study shows energy saving potential using both the Business-As-Usual and Alternative Policy Scenarios.
Full Report
Contents
List of Abbreviation and Acronyms
Chapter 1. Main Report on Energy Outlook and Saving Potential in the East Asia Region
Chapter 2. Australian Government Energy Projections to 2050
Chapter 3. Brunei Darussalam Country Report
Chapter 4. Cambodia Country Report
Chapter 5. People's Republic of China Country Report
Chapter 6. India Country Report
Chapter 7. Indonesia Country Report
Chapter 8. Japan Country Report
Chapter 9. Republic of Korea Country Report
Chapter 10. Lao PDR Country Report
Chapter 11. Malaysia Country Report
Chapter 12. Myanmar Country Report
Chapter 13. New Zealand Country Report
Chapter 14. Country Report of the Philippines
Chapter 15. Singapore Country Report
Chapter 16. Thailand Country Report