Under the Radar: International Regulatory Cooperation in ASEAN and New Zealand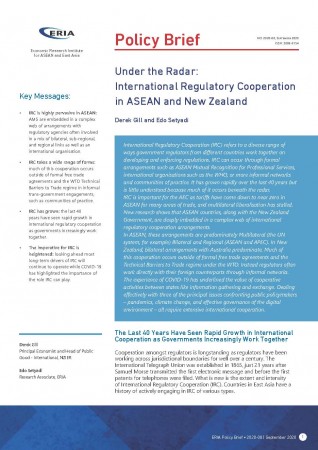 International Regulatory Cooperation (IRC) refers to a diverse range of ways government regulators from different countries work together on developing and enforcing regulations. IRC can occur through formal arrangements such as ASEAN Mutual Recognition for Professional Services, international organisations such as the WHO, or more informal networks and communities of practice. It has grown rapidly over the last 40 years but is little understood because much of it occurs beneath the radar.
IRC is important for the AEC as tariffs have come down to near zero in ASEAN for many areas of trade, and multilateral liberalisation has stalled. New research shows that ASEAN countries, along with the New Zealand Government, are deeply imbedded in a complex web of international regulatory cooperation arrangements.
In ASEAN, these arrangements are predominately Multilateral (the UN system, for example) Bilateral and Regional (ASEAN and APEC). In New Zealand, bilateral arrangements with Australia predominate. Much of this cooperation occurs outside of formal free trade agreements and the Technical Barriers to Trade regime under the WTO. Instead regulators often work directly with their foreign counterparts through informal networks.
The experience of COVID-19 has underlined the value of cooperative activities between states like information gathering and exchange. Dealing effectively with three of the principal issues confronting public policymakers – pandemics, climate change, and effective governance of the digital environment – all require extensive international cooperation.
Under the Radar: International Regulatory Cooperation in ASEAN and New Zealand
Related Articles