Services to Support Manufacturing Value Chains in East Asia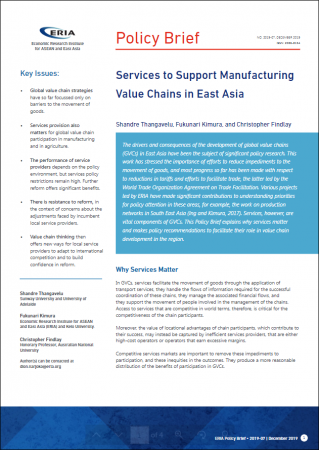 The drivers and consequences of the development of global value chains (GVCs) in East Asia have been the subject of significant policy research. This work has stressed the importance of efforts to reduce impediments to the movement of goods, and most progress so far has been made with respect to reductions in tariffs and efforts to facilitate trade, the latter led by the World Trade Organization Agreement on Trade Facilitation. Various projects led by ERIA have made significant contributions to understanding priorities
for policy attention in these areas, for example, the work on production networks in South East Asia (Ing and Kimura, 2017). Services, however, are vital components of GVCs. This Policy Brief explains why services matter and makes policy recommendations to facilitate their role in value chain development in the region.
Related Articles