Reducing Unnecessary Regulatory Burdens in ASEAN : Country Studies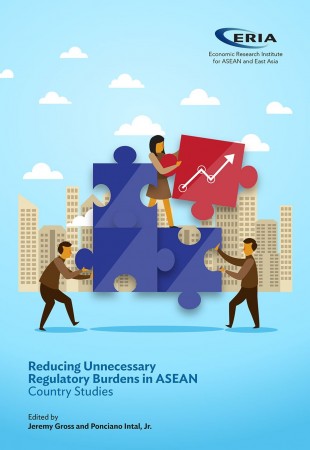 Reducing the costly and unnecessary burden of regulations on businesses is a key way government can support business competitiveness as well as attract investment. Yet in most countries, there is no systematic way to review regulations or assess whether the regulations are fulfilling their objective.
The Reducing Unnecessary Regulatory Burden (RURB) approach, as pioneered by the Malaysian Productivity Corporation, is one way to address this. This ERIA study looks to see how by applying RURB, problematic regulations can be identified, options to address regulations developed, and dialogue between regulators and business fostered. In this study of seven ASEAN Member States, each country report focuses on a priority growth sector for that country. The results, presented alongside a case history from the sewerage sector in Malaysia, shows the potential of RURB for reducing regulatory bottlenecks if adopted by ASEAN members.
Full Report
Reducing Unnecessary Regulatory Burdens in ASEAN: Country Studies
Contents
Chapter 1. Reducing Unnecessary Regulatory Burdens in Selected Sectors in ASEAN
Chapter 2. A Comprehensive Horizontal Review on Existing Regulations to Create a Conducive Business Environment
Chapter 3. Regulatory Reform in the Sewerage Works Approval Process in Malaysia
Chapter 4. Brunei Darussalam: Halal Meat and Meat Products Processing
Chapter 5. A Case Study of Cambodia's Agro-Industry
Chapter 6. A Case of the Automotive Industry in Indonesia
Chapter 7. Warehousing Services in Malaysia
Chapter 8. The Philippines' Tuna Industry
Chapter 9. Road Passenger Services in Thailand
Chapter 10. Value Chain Development: Case Study of Viet Nam's Fishery Export