Older People and COVID-19 in Indonesia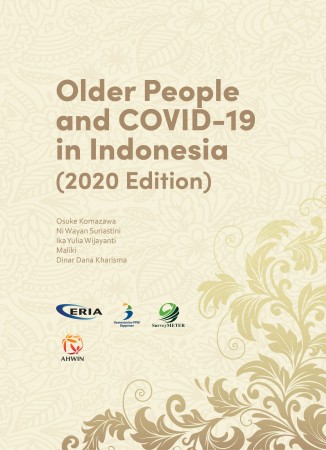 The phone survey of older people and coronavirus disease (COVID-19) in Indonesia was conducted as a joint project by ERIA, Bappenas, and SurveyMETER. Its aim was to (1) measure the general knowledge of older people about COVID-19, (2) compare the welfare and health status of older people before and during the COVID-19 pandemic, (3) understand their difficulties during the COVID-19 pandemic, (4) monitor the assistance they receive, and (5) identify the policies required to mitigate the impact on them.
The results revealed that more than half of older people saw their income fall, particularly those who depended on income from work or their children's income. Significantly more older people received government support compared with before the pandemic. One in six older persons reported a deterioration in their health during the pandemic, while most older people maintained their social interaction despite the pandemic. The government is encouraged to strengthen its efforts to develop the support system for older people to ensure realisation of the vision set out in the National Strategy for Older People.
The Indonesian version available at SurveyMeter website: Bahasa Indonesia
Full Report
Older People and COVID-19 in Indonesia
Content
Chapter 1: Background and Objectives
Chapter 2: Characteristics of Respondents
Chapter 3: Economic and Social Protection
Chapter 5: Interaction and Social Support
Chapter 6: Conclusion and Recommendations
Related Articles