Financial Inclusion in Asia and Beyond Measurement, Development Gaps, and Economic Consequences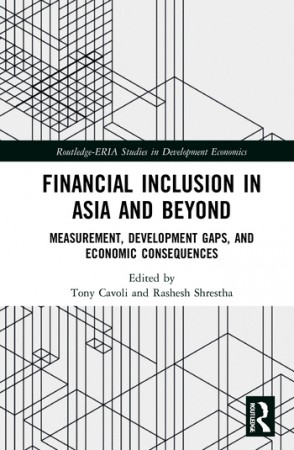 The World Bank considers financial inclusion to be an enabler for at least 7 of the 17 United Nation's sustainable development goals (SDGs). Financial inclusion, with its associated policy implications, is an important issue for ASEAN. This book examines the economic effects of financial inclusion. It explores issues surrounding measurement and impact of financial inclusion.
The book looks at various, salient topics including measurement of financial inclusion, the impact of (various indicators of) financial inclusion on development outcomes and macroeconomic volatility using aggregate data, as well as the effects of financial inclusion on poverty and development outcomes using microdata.
About the Book
Edited by Tony Cavoli and Rashesh Shrestha
298 Pages 62 B/W Illustrations
Series: Routledge-ERIA Studies in Development Economics
Table of Contents
The nature and landscape of financial inclusion in Asia (Tony Cavoli and Rashesh Shrestha)
The composition of Financial Inclusion in ASEAN and East Asia: a new hybrid index and some stylised facts (Rajabrata Banerjee and Ronald Donato)
The Effects of Financial Inclusion on Development Outcomes: New Insights from ASEAN and East Asian Countries (Rajabrata Banerjee, Ronald Donato, and Admasu Afsaw Maruta)
Financial Inclusion: New Measurement and Cross-Country Impact Assessment (Cyn-Young Park and Rogelio V. Mercado Jr.)
Financial Inclusion and Macroeconomic Volatility in Asia (Sasidaran Gopalan, Ramkishen S. Rajan, and Aizhan Sharipova)
Empowering the powerless: Financial inclusion in developing Africa and Asia Firmin (Doko-Tchatoka and Ha Trang Vo)
The Poverty-Reducing Effects of Financial Inclusion: Evidence from Cambodia (Kimty Seng)
Financial inclusion and savings in Indonesia (Rashesh Shrestha and Samuel Nursamsu)
Financial Inclusion, active bank accounts, and poverty reduction in India (Tony Cavoli, Ilke Onur, and Patricia Sourdin)
More Information
Click here to purchase the book. Hardback version available.
Related Articles