ERIA FRAMES | October 2017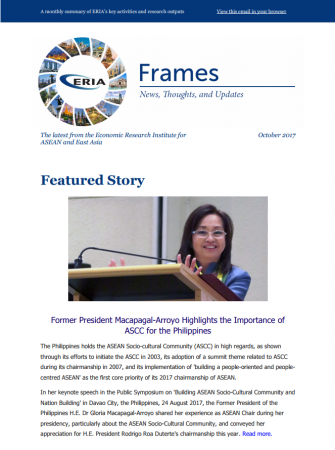 The Philippines holds the ASEAN Socio-cultural Community (ASCC) in high regards, as shown through its efforts to initiate the ASCC in 2003, its adoption of a summit theme related to ASCC during its chairmanship in 2007, and its implementation of 'building a people-oriented and people-centred ASEAN' as the first core priority of its 2017 chairmanship of ASEAN.
In her keynote speech in the Public Symposium on 'Building ASEAN Socio-Cultural Community and Nation Building' in Davao City, the Philippines, 24 August 2017, the Former President of the Philippines H.E. Dr Gloria Macapagal-Arroyo shared her experience as ASEAN Chair during her presidency, particularly about the ASEAN Socio-Cultural Community, and conveyed her appreciation for H.E. President Rodrigo Roa Duterte's chairmanship this year. Read more.
Amidst the growing trend of protectionism in the industrial world, ASEAN must offer an alternative course towards regional reform and liberalisation through the Regional Comprehensive Economic Partnership (RCEP) agreement, said Prof Dr Peter Drysdale, Emeritus Professor of Economics at the Crawford School of Economics and Government, the Australian National University, in Manila. Prof Drysdale delivered his keynote speech in the Public Symposium on ASEAN Economic Community and East Asia Integration and Nation Building, held on 21 September 2017 by the Economic Research Institute for ASEAN and East Asia (ERIA) and the Philippine Institute for Development Studies (PIDS), with the support of the Philippines' Department of Foreign Affairs (DFA)- Philippine Mission to ASEAN. Read more.
Click here to read the online version with the latest stories, publications, and events.
Click here to subscribe to ERIA FRAMES.