East Asia Updates | September 2017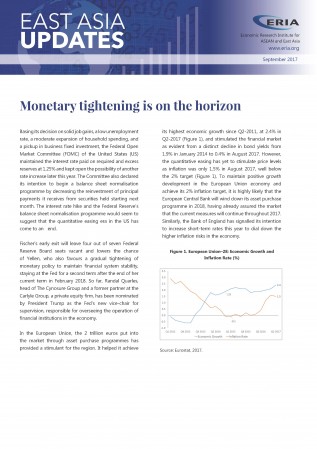 Monetary tightening is on the horizon
Basing its decision on solid job gains, a low unemployment rate, a moderate expansion of household spending, and a pickup in business fixed investment, the Federal Open Market Committee (FOMC) of the United States (US) maintained the interest rate paid on required and excess reserves at 1.25% and kept open the possibility of another rate increase later this year. The Committee also declared its intention to begin a balance sheet normalisation programme by decreasing the reinvestment of principal payments it receives from securities held starting next month. The interest rate hike and the Federal Reserve's balance sheet normalisation programme would seem to suggest that the quantitative easing era in the US has come to an end.
Delicate situation in relation to the US on trade issues amidst provocations by North Korea
In the midst of North Korea's provocations, President Trump's announcement that he will review the US-Korea Free Trade Agreement has driven a wedge between the US and the Republic of Korea. While the administration has reiterated its ironclad commitment to maintaining security in the region, Trump's determination to review or even withdraw from the deal has brought advantages neither to the Republic of Korea nor the US.
Download the September 2017 update.