East Asia Updates | May 2017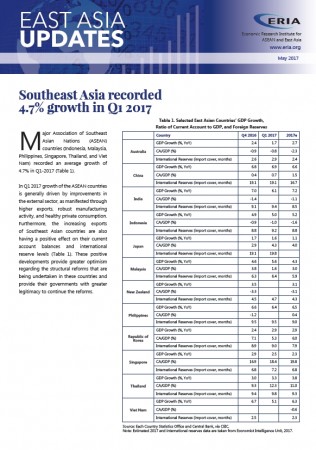 Southeast Asia Recorded 4.7% Growth in Q1 2017
Major Association of Southeast Asian Nations (ASEAN) countries (Indonesia, Malaysia, Philippines, Singapore, Thailand, and Viet Nam) recorded an average growth of 4.7% in Q1-2017 (Table 1).
More Integrated Asia: Is 'Belt and Road Initiative' an Answer?
First introduced in September 2013, the China Belt and Road Initiative (BRI), previously called the One Belt One Road initiative, is a programme promoted by the Chinese government to increase connectivity throughout the Asian region that aims to increase trade and boost economic growth in the region. While many countries have been responding to the initiative quite warmly, there are also countries that are cautious about joining the BRI as there are many potential benefits and risks that need to be balanced.
Download the May 2017 update.