East Asia Update - September 2016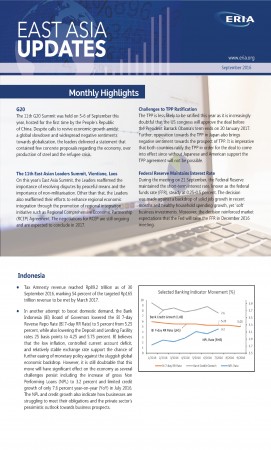 Monthly Highlights
G20

The 11th G20 Summit was held on 5-6 of September this year, hosted for the first time by the People's Republic of China. Despite calls to revive economic growth amidst a global slowdown and widespread negative sentiments towards globalization, the leaders delivered a statement that contained few concrete proposals regarding the economy, over production of steel and the refugee crisis.

The 11th East Asia Summit, Vientiane, Lao PDR

On this year's East Asia Summit, the Leaders reaffirmed the importance of resolving disputes by peaceful means and the importance of non-militarisation. Other than that, the Leaders also reaffirmed their efforts to enhance regional economic integration through the promotion of regional integration initiative such as Regional Comprehensive Economic Partnership (RCEP) Agreement. The negotiations for RCEP are still ongoing and are expected to conclude in 2017.

Challenges to TPP Ratification

The Trans-Pacific Partnership (TPP) is less likely to be ratified this year as it is increasingly doubtful that the US congress will approve the deal before President Barack Obama's term ends on 20 January 2017. Further, opposition towards the TPP in Japan also brings negative sentiment towards the prospect of TPP. It is imperative that both countries ratify the TPP in order for the deal to come into effect since without Japan's and the US' support the TPP agreement will not be possible.

Federal Reserve Maintains Interest Rate

During the meeting on 21 September, the Federal Reserve maintained the short-term interest rate, known as the federal funds rate (FFR), steady at 0.25-0.5 percent. The decision was made against a backdrop of solid job growth in recent months and healthy household spending growth, yet 'soft' business investments. Moreover, the decision reinforced market expectations that the Federal Reserve will raise the FFR in December 2016 meeting.
Download the September 2016 update.