Cross-Border Integration of Renewable Energy Systems Experiences, Impacts, and Drivers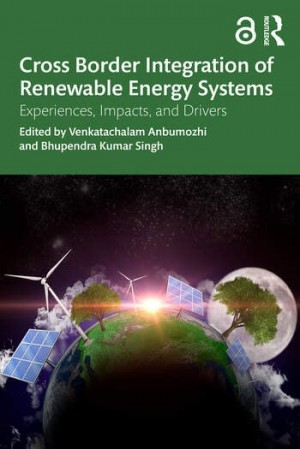 Cross-border energy trade and the integration of renewable energy have become increasingly vital for countries and regions aiming to meet energy demands efficiently, reduce costs, and promote socio-economic stability while addressing climate concerns in the volatile energy market. This book delves into various global energy trade models between regions, highlighting their advantages and challenges, with a particular emphasis on India's Northeast region.
South and Southeast Asian countries possess abundant renewable energy resources. This publication scrutinises the energy portfolios of nations such as India, Myanmar, Thailand, Bangladesh, and Bhutan, amongst others, as well as their initiatives to create more interconnected markets and foster renewable energy adoption within the region. It underscores the potential of Northeast India, given its natural wealth and strategic positioning, to facilitate cross-border energy trade with ASEAN nations. The book offers in-depth analysis on the driving forces, constraints, opportunities, and barriers involved, as well as potential measures that countries can implement to address institutional, financial, policy, and governance issues. These actions aim to minimise the overall costs of energy security and maximise socio-economic benefits for the populations in these regions. Furthermore, it identifies essential prerequisites, including grid flexibility, policy enhancements, market mechanisms, and regulatory solutions, essential for facilitating clean energy trade. The volume contributes to the advancement of low-carbon development and informs policy formulation by concentrating on the integration of renewable energy across international borders.
This volume will be of significant interest to students and researchers specialising in energy and climate studies, environmental politics, trade, economics, and international relations.
The Open Access version of this book, available at HERE
This book is freely available as a downloadable Open Acess PDF under a Creative Commons (CC-BY-NC-ND) 4.0 license.
About the Book
ISBN 9781032562513
298 Pages 21 B/W Illustrations
Table of Contents
Cross border energy cooperation and trade: impacts, challenges, and policy implications
Integrative strategy for promoting appropriate renewable energy resources, energy security, and cross-border energy trade in North East Region of India
Cross-border energy trade and development of Border Economic Zones (BEZs) in Northeast India: toward an integrated regional programme
Energy market and hierarchical interactions between NER India and ASEAN –from theory to practice
Energy connectivity between India and ASEAN: trends and challenges
Energy connectivity and cooperation between Gulf Cooperation Council (GCC), Iran, and South Asia
Electricity system integration in Europe and North America
Power market integration in Australia: Attributes and frameworks for sustainable cross-border cooperation
More Information
Click here to purchase the book. Ebook and hardcover version is available.
Related Articles