ERIA President: ASEAN Needs More Investment in Human Development to Sustain Growth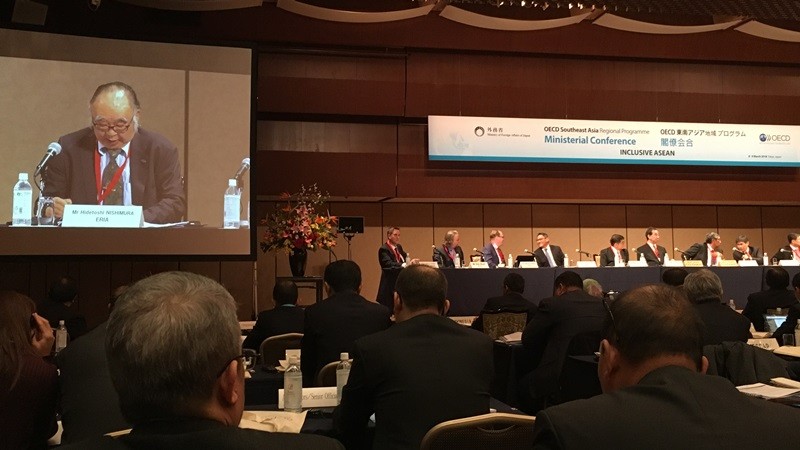 Tokyo, 8 March 2018: ASEAN member states' relatively high economic growth is important; however, the region needed more investment in health, education, infrastructure, and social protection in order to create an inclusive society that could sustain the gains of economic growth, said ERIA President Prof Hidetoshi Nishimura in Tokyo.
Prof Nishimura delivered his remarks in the Southeast Asia Ministerial Forum with the theme 'Inclusive ASEAN' held by the Organisation for Economic Cooperation and Development (OECD) on 8 March 2018. He was speaking in the first session 'Inclusive ASEAN: Inclusiveness through Connectivity' together with Secretary-General of ASEAN Hon Dato Lim Jock Hoi and H.E. Sok Chenda Sophea, Minister attached to the Prime Minister of Cambodia and the Secretary-General of the Council for the Development of Cambodia.
'An inclusive ASEAN requires a virtuous cycle of economic growth, and resource and policy allocation for social development. Good social progress exerts more innovation and productivity, and robust economic growth,' said Prof Nishimura, who also reiterated ERIA's ongoing work on connectivity issues in the region as well as the organisation's readiness to support ASEAN and its partners.
Moreover, Prof Nishimura provided a brief overview of ERIA's flagship project on infrastructure and connectivity, the Comprehensive Asia Development Plan (CADP), which presented a grand spatial design of economic infrastructure and industrial placement in ASEAN and East Asia. He stated that the time has come to discuss the revision of CADP to include new concepts driven by the development of communication technology, digital economy, and innovation in the region, especially as the concept of infrastructure will be deconstructed from physical to digital under the concept of the third unbundling proposed by Prof Richard Baldwin.
'Imagine the existence of telecommunication technology that will enable doctors in Tokyo to do a surgical operation for patient in the Philippines. We need to start the discussion on how this movement will change the concept of connectivity, and what we need to prepare for AEC 2025,' said Prof Nishimura, referring to the ASEAN Economic Community in the year 2025.
The Minister for Foreign Affairs of Japan H.E. Taro Kono also delivered his remarks, in which he conveyed Japan's intention to strengthen their cooperation with Southeast Asian nations including on infrastructure development as well as rule-based regional peace and stability.
More than 150 participants including the government officials from Southeast and East Asia Nations, members of Southeast Asia Regional Program (SEARP) of OECD participated in this one-day conference.
Related Articles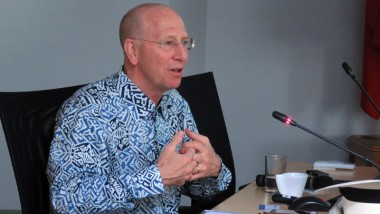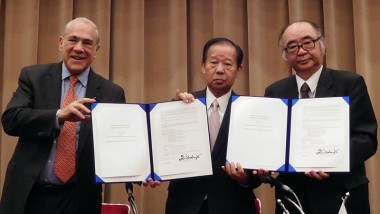 CHOOSE FILTER