Interconnected Government: International Regulatory Cooperation in ASEAN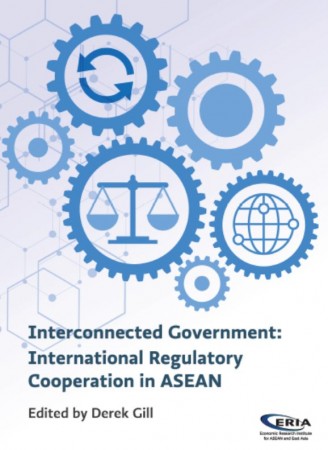 Promoting international regulatory cooperation (IRC) is gaining traction as a way to improve business competitiveness. Within the Association of Southeast Asian Nations (ASEAN), improving regulatory quality and reducing the costs of doing business is seen as beneficial for firms and as well as being supportive of facilitating international trade and investment. The ASEAN Economic Community Blueprint 2025 creates an imperative for such good regulatory practices.
But what exactly is IRC, what is promoting it, and what are the barriers to it? These are some of the issues explored in this book. Based on case studies and surveys from all ASEAN Member States, this book looks at the state of play of IRC within ASEAN, presenting the findings alongside country studies from Malaysia, the Philippines, and Thailand, and New Zealand as a +1 bilateral Partner. These findings can act as a guide for ASEAN Member States in moving forward in improving the effectiveness of regulations and increasing regulatory interoperability .
For a Policy Brief that draws out the key messages and policy implications see:
Under the Radar: International Regulatory Cooperation in ASEAN and New Zealand
Full Report
Interconnected Government: International Regulatory Cooperation in ASEAN
Contents
List of Figures, Tables, and Boxes
Chapter 1 Interconnected Government: An Introduction to International Regulatory Cooperation in ASEAN and New Zealand
Chapter 2 The Pervasiveness and Persuasiveness of International Regulatory Cooperation in the ASEAN and New Zealand – Research Findings
Chapter 3 The Craft of International Regulatory Cooperation – Practical Lessons Learned
Chapter 4 International Regulatory Cooperation in Thailand – Swaying Bamboo and Tailgating Strategies
Chapter 5 International Regulatory Cooperation in New Zealand – A Small Country Embedded in a Complex Web of Arrangements
Chapter 6 International Regulatory Cooperation in the Philippines – The Drive for Improved Regulatory Quality and Regulatory Coherence
Chapter 7 International Regulatory Cooperation in Malaysia – Regulatory Interoperability through Regional and Multilateral Linkages
Related Articles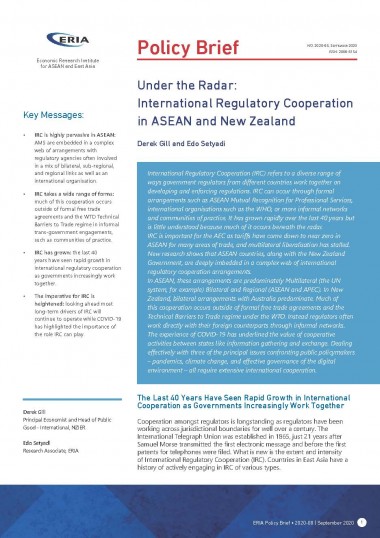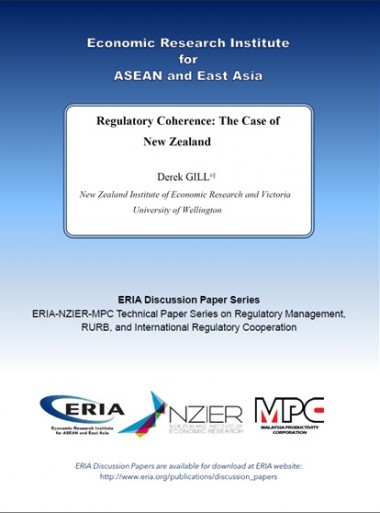 CHOOSE FILTER