The Strategic and Economic Value of Joint Oil Stockpiling Arrangements for Middle East Exporters and ASEAN Importers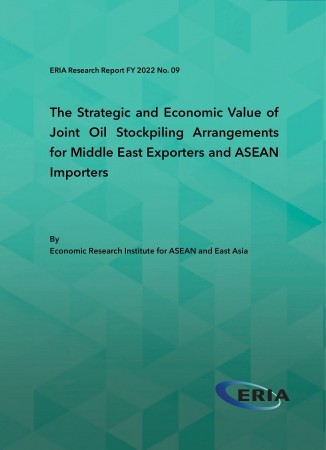 The study justifies and promotes oil stockpiling in Association of Southeast Asian Nations (ASEAN) countries and explores the possibility of joint stockpiling with Middle East crude oil exporters. Despite ASEAN countries' attempts to decarbonise energy consumption, oil
demand in ASEAN will increase and import dependency rise. Considering oil supply risks, oil stockpiling will continue to be needed to tackle supply disruption. ASEAN countries have 20–50 days of oil stocks because of national initiatives, whilst joint oil stockpiling with Middle East crude oil exporters and/or ticket stockpiling with other importing countries offer cheaper options.
The benefit of oil stockpiling exceeds the cost in Indonesia, the Philippines, and Viet Nam.
Including joint and ticket stockpiling will reduce stockpiling cost significantly. Joint oil stockpiling with Middle East crude oil exporters has strategic and economic value and creates a win–win situation. ASEAN importers could begin discussions with Middle East exporters; evaluate the advantage of joint stockpiling; and study the feasibility of potential sites, quantities, entities, legal frameworks, and emergency response schemes.
Full Report
The Strategic and Economic Value of Joint Oil Stockpiling Arrangements for Middle East Exporters and ASEAN Importers
Contents
List of Abbreviations and Acronyms
Chapter 1 Rising Oil Import Dependency and Oil Stockpiling in ASEAN
Chapter 2 Cost–Benefit Analysis on Oil Stockpiling in Indonesia, the Philippines, and Viet Nam
Chapter 3 Summary and Policy Recommendations
Related Articles