The Indian Automotive Industry and the ASEAN Supply Chain Relations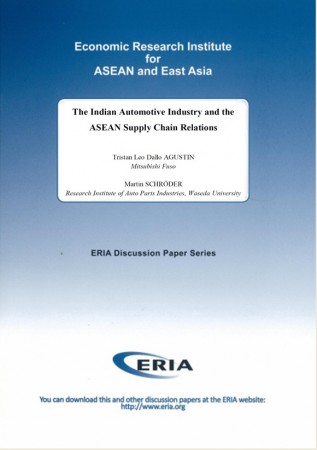 The topic of automotive supply chains has been increasingly studied as it raises questions of economic development, especially from the perspectives of simultaneous globalisation and regionalisation, and trade. While ASEAN is a prime example of intraregional production networks, supply chains that connect ASEAN and India have not been studied indepth. Therefore, this paper investigates the Indian automotive industry, which is composed of automobile original equipment manufacturers (OEMs) and parts and components producers, and other supply chain connections to the neighbouring ASEAN region.
This study is structured as follows. First, we will take a look at the historic development of the automotive industry in India, as it provides the context for the development of companies and their capabilities that are crucial determinants for their ability to join supply chains. The investigation will not be limited to Indian firms because as case studies of the ASEAN region forcefully demonstrate, foreign OEMs and parts suppliers may use developing and emerging markets as specialised production bases of their global and regional supply chains. Second, against the historic background, the current condition of the automotive industry in India will be analysed by discussing industry data. Third, we will conduct case studies of automotive companies from India, Japan, and South Korea to investigate how India and ASEAN are connected through supply chains and determine which chains integrate Indian companies. We will analyse to which extent industrial and trade policies promote or hinder the extension of ASEAN supply chains to India and vice versa. As a final step, policy recommendations will be formulated based on the findings in order to improve the automotive trade between India and ASEAN.