Supply Chain Resilience: Reducing Vulnerability to Economic Shocks, Financial Crises, and Natural Disasters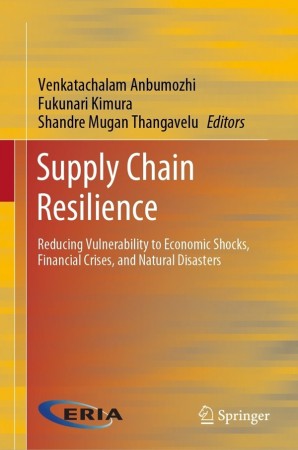 This book investigates individual companies' and industries' supply chain risk management approaches to identify risk drivers and verify effective risk-reduction measures and business continuity plans.
Typically, supply chain risk assessments focus on normative guidelines based on single best practice examples or vulnerability events, and there has been little work exploring how the concepts of supply chain risk management and resilience are related. However, since this relationship has implications for developing integrated response strategies, a clear understanding of the possible consequences is a fundamental step in building socio-economic resilience along the supply chain.
Against this background, the book addresses three main topics: firstly, it defines the conceptual and sectoral domains of supply chain risk management and resilience by examining the welfare effects of extreme weather events and other economic shocks on selected global supply chains. It then presents an in-depth analysis of the scope of public–private partnerships to tackle the risks, by empirically exploring supply chain risk effects and information management. Thirdly, it proposes a regional cooperation framework in the context of major supply chain vulnerability events such as disasters and global financial crises.
About the Book
Edited by: Venkatachalam Anbumozhi, Fukunari Kimura, Shandremugan Thangavelu
340 pages, 15 b/w illustrations, 121 illustrations in colour
Table of Contents
Global Supply Chain Resilience: Vulnerability and Shifting Risk Management Strategies
Economic Shocks and Uncertainties: How Do Firm Innovativeness Enable Supply Chain and Moderate Interdependence
Supply Chain Resilience in the Global Financial Crisis: An Empirical Study on Japan
How Do Production Networks Affect the Resilience of Firms to Economic and Natural Disasters: A Methodological Approach and Assessment in Japan, Taiwan and Thailand
Economic Risk Characteristics of an Indonesian Palm Oil Value Chain and Identifying Sources of Uncertainty in Policy Making
Robustness of Production Networks Against Economic Disasters: Thailand Case
Complexities in Supply Chain Resilience Against Economic Shocks and Forming Public Private Partnerships: Korean Automotive Case
A Contingent Resource-Based Perspective of Tourism Value Chain and Robustness: European Experiences
Assessing the Competitive Advantage of Public Policy Support for Supply Chain Resilience
Achieving the Resilience of Production Networks During Economic Crisis: The Case of Chinese SMEs
Stranded Assets and Protecting Value of Food Value Chain from Disasters and Other External Shocks
Regional Frameworks for Advancing Supply Chain Resilience and Business Continuity Plans
More Information
Click here to purchase the book. ebook and hardcover version is available.
Related Articles