Research for Consideration of a Policy Proposal to Reform the Natural Rubber Industry's Structure and Stabilise Farmers' Dealing Conditions in Thailand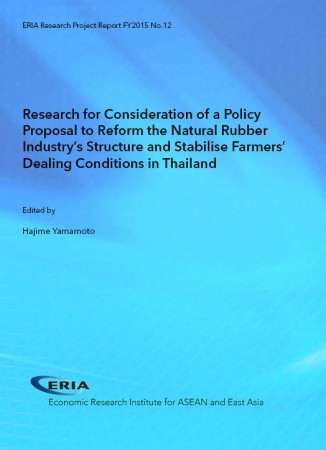 Thailand, Indonesia, and Malaysia together produce about 70 percent of the world's natural rubber. Recently, this product has been in excess supply because of its increasing production in Cambodia, Myanmar, and Viet Nam and, after 2011, its subdued demand in China. Thus, the price of natural rubber has continually declined since 2011, and stocks in Thailand have been increasing.
Production and distribution of natural rubber should then be improved in Asian countries, specifically Thailand, for farmers to be able to tolerate the competitive and changing market circumstances. This study identifies the types of support for farmers that would be effective against the price volatility of natural rubber, and proposes major policy options.
Full Report
Contents
Chapter 2. Production and Distribution Environment of Natural Rubber Farmers
Chapter 3. Transaction with Rubber Processer
Chapter 4. Agricultural Policy for Natural Rubber Farmers in Thailand
Chapter 5. Feasibility of Introducing Option Trade by Thai Government
Chapter 6. Structural Change of Rubber Industry
Chapter 7. Policy Proposal Points for Thai Government