Non-tariff Measures Australia, China, India, Japan, New Zealand, Republic of Korea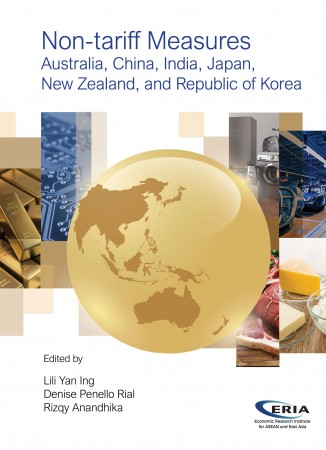 Non-Tariff Measures (NTMs) have become increasingly numerous and prominent. The majority of these NTMs are imposed for reasons not primarily related to trade: for human, plant, and animal, health, and environmental protection, but nonetheless affect international trade.
The fact that NTMs can affect market access, as well as altering prices and quantities traded, is relevant in view of achieving global and regional economic integration. It highlights the fundamental demand for transparency, to understand the mapping of regulations that are affecting exports and imports within own country as well as in partner countries. Transparency, i.e. availability of comprehensive and accurate data, also paves the way to building approaches to measuring their impact on international trade and development.
ERIA and UNCTAD collaborate to expand the NTM database using a methodology that ensures consistency in the approach taken to collect and classify data in every country. Using UNCTAD's methodology ensures standardisation of the process and the final result. At first, NTM data for ASEAN countries in 2014 were successfully collected. Upon request, by member States to support the negotiations of the Regional Comprehensive Economic Partnership (RCEP), the NTM data for Australia, China, India, Japan, Republic of Korea, and New Zealand were then mapped. The database helped navigate the current NTMs regimes in the RCEP members. The data for India are still relevant because the ASEAN-India Free Trade Area (AIFTA) is in force. The databases for all 16 countries are publicly available on the Trade Analysis Information System (TRAINS) website of ERIA and UNCTAD, https://unctad.org/topic/trade-analysis/non-tariff-measures.
Full Reports
Non-tariff Measures Australia, China, India, Japan, New Zealand, Republic of Korea
Contents
List of Editors and Contributors
List of Figures, Tables, and Boxes
Chapter 1 Non-tariff Measures: An Overview
Chapter 2 East Asian Trade Integration and Its Main Challenge
Chapter 3 Non-tariff Measures in Australia
Chapter 4 An Anatomy of China's Non-tariff Measures
Chapter 5 Non-tariff Measures in India
Chapter 6 Non-tariff Measures in Japan
Chapter 7 Non-tariff Measures in Korea
Chapter 8 Non-tariff Measures in New Zealand
Database
The data for Australia, China, Japan, India, New Zealand, and South Korea are available at the link below
Related Articles