Industry 4.0: Empowering ASEAN for the Circular Economy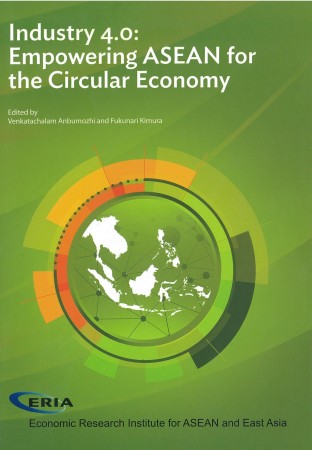 The transition to a circular economy is a unique opportunity for fast-growing Asian economies to be resource efficient, competitive, and innovative. The circular economy aims to eradicate wasteful use of raw materials and energy from the manufacturing process as well as systematically throughout the various life cycles, and to reuse the by-products. By creating an enabling policy framework for circular economy, government can also motivate corporate leaders to achieve greater benefits for sustainable development. This book investigates the challenges and opportunities of how countries and corporations are able to strike a better balance between economic growth and resource efficiency stewardship in the context of the emerging paradigm on circular economy policy. Through analysis of a number of case studies, this book also highlights immediate and relatively easy-to-implement circular thinking based on current policy approaches and market trends.
Full Report
Industry 4.0: Empowering ASEAN for the Circular Economy
Contents
Part I. Global Economic Transitions and Next Evolutionary Industrial Acts
Chapter 1. Industry 4.0: What Does It Mean for Circular Economy in ASEAN?
Chapter 2. Connecting Sustainable Lifestyles, Industry 4.0, and the Circular Economy
Chapter 3. Evolutionary Acts and Global Economic Transition: Progress of the Circular Economy in ASEAN
Chapter 4. The Evolution of Industry 4.0 and its Impact on the Knowledge Base for the Circular Economy
Part II. Finding Economic Values and Capturing Firm Competiveness
Chapter 5. Maximizing Economic Benefits and Firm Competitiveness
Chapter 6. An Assessment of Vietnamese Firms' Readiness to Adopt Circular Economy
Chapter 7. Establishing Green Finance System to Support the Circular Economy
Part III. Understanding the Risks and Adverse Social Impacts
Chapter 8. Mitigating the Risks and Adverse Impacts of Implementing Internet of Things Services
Chapter 9. Mitigating the Adverse Impacts of Circular Economy: Implementation and Role of Governments
Chapter 10. Innovation of Finance for Industry 4.0 in ASEAN
Part IV. The Financing Essentials of Integrated Strategies
Chapter 11. Managing the Transition to Industry 4.0 through Multilevel Governance Systems
Chapter 12. Managing the Transition through Multilevel Governance
Chapter 13. Enhancing Regional Architecture for Innovation to Promote the Transformation to Industry 4.0
Related Articles