Fostering Production and Science & Technology Linkages to Stimulate Innovation in ASEAN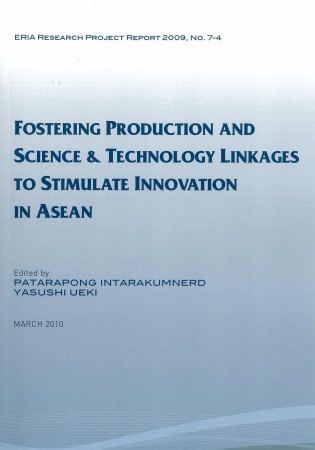 List of Project Members
Project Leader

Patarapong Intarakumnerd: College of Innovation, Thammasat University, Thailand.
Project Member

Sunil Mani: Centre for Development Studies, India.

Haryo Aswicahyono: Centre for Strategic and International Studies, Indonesia.

Tomohiro Machikita: Institute of Developing Economies (IDE/JETRO), Japan.

Masatsugu Tsuji: Graduate School of Applied Informatics, University of Hyogo, Japan.

Avvari V. Mohan: Nottingham University Business School Malaysia Campus, Malaysia.

Mari-Len Macasaquit: Bangko Sentral ng Pilipinas, Philippines.

Somrote Komolavanij: Sirindhorn International Institute of Technology, Thammasat University, Thailand.

Truong Chi Binh: Institute for Industry Policy and Strategy, Vietnam.
Coordinator

Yasushi Ueki: Bangkok Research Center, IDE/JETRO, Thailand.
Full Report
Contents
1. The flight from Defence to Civilian Space: Evolution ofthe Banglore Aerospace Cluster
2. Production Linkages and Industrial Upgrading: Casestudy of Indonesia's Automotive Industry
3. Linkages for Fostering Innovation Activities - CaseStudies of Firms in E&E Sector of Penang Cluster - Malaysia
4. Case Study of the Electronics Industry in thePhilippines: Linkages and Innovation
5. Thai Automotive Industry and Cases Study
6. The Process of Improving Technology and the Perspectiveof Domestic Suppliers in the Motorbike Industry in Hanoi
7. Empirical Analysis of Information Linkages andCapability in ASEAN Economies: Case of Indonesia, the Philippines, Thailand andVietnam
8. Empirical Analysis of Innovation and the Proximity ofInformation Linkages in ASEAN Economies: Case of Indonesia, the Philippines,Thailand and Vietnam
9. Learning and Innovation in Upstream-DownstreamRelations: Mutual Knowledge Exchanges and Types of TransferredTechnologies