Exit Strategies for ASEAN Member States: Keeping Production Networks Alive Despite the Impending Demand Shock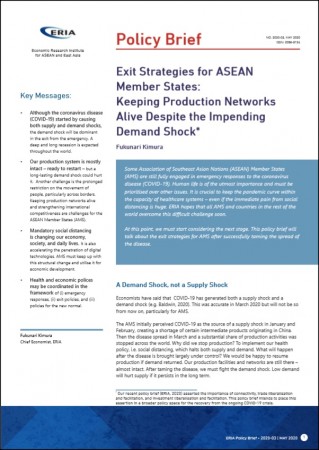 Some Association of Southeast Asian Nations (ASEAN) Member States (AMS) are still fully engaged in emergency responses to the coronavirus disease (COVID-19). Human life is of the utmost importance and must be prioritised over other issues. It is crucial to keep the pandemic curve within the capacity of healthcare systems – even if the immediate pain from social distancing is huge. ERIA hopes that all AMS and countries in the rest of the world overcome this difficult challenge soon.
At this point, we must start considering the next stage. This policy brief will talk about the exit strategies for AMS after successfully taming the spread of the disease.
Exit Strategies for ASEAN Member States: Keeping Production Networks Alive Despite the Impending Demand Shock
Related Articles