ERIA FRAMES | January 2017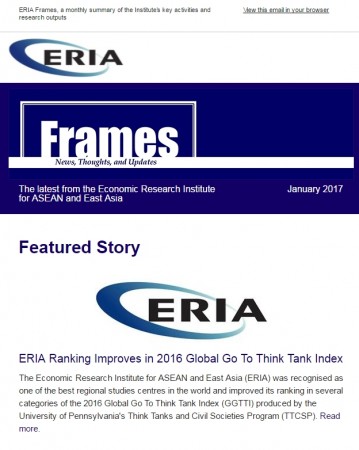 ERIA was recognised as one of the best regional studies centres in the world and improved its ranking in several categories of the 2016 Global Go To Think Tank Index (GGTTI) produced by the University of Pennsylvania's Think Tanks and Civil Societies Program (TTCSP). Read more.
Former President of Myanmar HE U Thein Sein received the Grand Prize of the 3rd Asia Cosmopolitan Awards (ACA) this afternoon in recognition of his contributions to his country's reform efforts and democratization under his leadership. Read more.
The President of ERIA Professor Hidetoshi Nishimura received a courtesy visit from the Secretary General of the International Energy Forum (IEF) Dr Sun Xiansheng on 30 January 2017 in Jakarta. Read more.
Click here to read the online version with the latest stories, publications, and events.
Click here to subscribe to ERIA Frames.