Energy Market Integration in East Asia: Energy Trade, Cross Border Electricity, and Price Mechanism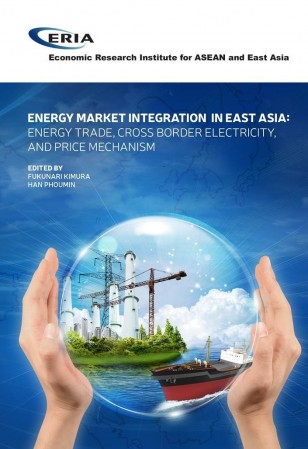 Research on Energy Market Integration (EMI) has been the focus of many scholars, researchers, and leaders in the energy field as evidences, particularly in Europe and America, tend to show the benefits from such market integration. The Association of Southeast Asian Nations (ASEAN) community, aiming to achieve the ASEAN Economic Community, will need to address the issue on EMI in a more explicit way as it has been a driving force for economic growth in the region so far. It must be noted that for EMI and energy trade to occur, the basic prerequisite is to have sufficient available connecting infrastructure between markets and the supporting regulatory and political conditions. A well-coordinated and effective resource allocation could happen only if markets are contestable and fully competitive, and countries may give up their policy on sovereignty from "own-regulation" to "deregulation" in order to join the regional market integration.
The Economic Research Institute for ASEAN and East Asia (ERIA) has conducted the EMI studies for several years, and the studies have been promoted by East Asia governments to deepen understanding on matters impacting on energy trade liberalisation and investment, energy infrastructure, pricing reform, and deregulation of domestic energy markets. Previous EMI studies focused on the review of the regional commitment of East Asian Summit (EAS) countries, the benefits from EMI, the electricity market, theories, subsidies, and renewable energy (RE). In the EMI 2013-2014, the theme was chosen to provide more focus on the energy trade in the ASEAN and East Asian countries, though other energy-related issues are also covered in this study.
This EMI study provides analytical perspectives on constraints and barriers, and the measures that countries could take to address issues--from institutional, financial, and human resources--to realise the potential benefits from energy trade-related matters, power connectivity, and other EMI-involved mechanisms.
Full Report
Contents
Chapter 2. Energy Commodity Trading in Singapore
Chapter 3. Energy Trade Practices in India: Review of Tariff and Non-Tariff Barriers in Relation to ASEAN
Chapter 4. ASEAN-India Gas Cooperation: Redefining India's Look East Policy with Myanmar
Chapter 5. The Welfare Impacts of Price Equalisation in Energy Market Integration
Chapter 6. Market Integration and Energy Trade Efficiency: An Application of Malmqvist Index to Analyse Multi-Product Trade
Chapter 7. Infrastructure Investments for Power Trade and Transmission in ASEAN+2: Costs, Benefits, Long-term Contracts, and Prioritised Development
Chapter 8. Assessment of Power Trade Benefits from Hydropower Projects in Lower Mekong River Basin
Chapter 9. Deregulation, Competition and Market Integration in China's Electricity Sector
Chapter 10. Enhanced Measurement of Energy Market Integration in East Asia: An Application of Dynamic Principal Component Analysis
Chapter 11. Electricity Price Impacts of Feed-in Tariff Policies: The Cases of Malaysia, the Philippines, and Thailand
Chapter 12. Trade-off Relationship between Energy Intensity--thus Energy Demand--and Income Level: Empirical Evidence and Policy Implications for ASEAN and East Asia Countries
Chapter 13. Impact of International Oil Price Shocks on Consumption Expenditures in ASEAN and East Asia