East Asia Updates | Special 2018 Annual Edition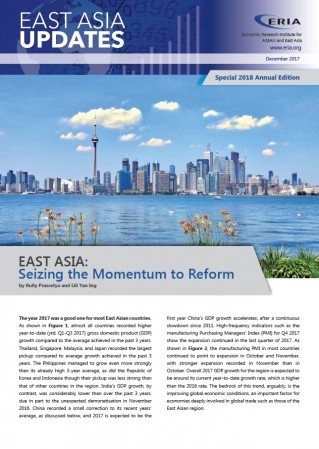 The year 2017 was a good one for most East Asian countries. As almost all countries recorded higher year-to-date (ytd, Q1-Q3 2017) gross domestic product (GDP) growth compared to the average achieved in the past 3 years. Thailand, Singapore, Malaysia, and Japan recorded the largest pickup compared to average growth achieved in the past 3 years. The bedrock of this trend, arguably, is the improving global economic conditions, an important factor for economies deeply involved in global trade such as those of the East Asian region.
Moving forwards, continued acceleration is expected in 2018. The IMF and the World Bank forecast that global economic growth will be stronger in 2018 than in 2017, supported by pickups in real sector activities, including investment, trade, and industrial production. Despite the favourable outlook, significant downside risks remain such as the management of financial risk in China and the tightening of global financial condition.
The current period of economic upturn is an opportunity to accelerate reforms. Rather than being complacent, the region's policymakers should take advantage of the recent growth momentum generated by the economic upturn to accelerate domestic reforms and strengthen regional cooperation, so economic growth becomes more sustainable and the region's economies more resilient to external shocks.
Download the Special 2018 Annual Edition.