Developing the Digital Economy in ASEAN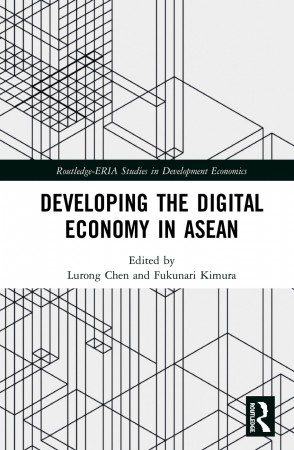 This book advances the international debate on the development of e-commerce with a focus on emerging ASEAN economies. It provides readers insights on Asia's needs and efforts to improve the regional legal and economic conditions to support e-commerce. This book looks at the rules and regulations on e-commerce, and e-commerce for inclusiveness growth. It provides insights from several ASEAN member states and discovers the requirements for Asian countries to better grasp the new juncture of growth associated with economic digitalization, which also has deep implications on continuous regional integration and community-building.
About the Book
Edited by Lurong Chen and Fukunari Kimura
288 Pages - 25 B/W Illus.
Table of Contents
Introduction
Introduction: ASEAN Development in Digital Economy (Lurong Chen and Fukunari Kimura)
1. E-commerce and International Trade (Kar-yiu Wong)
Part I: Rules and Regulations
2. Cross-Border Digital Trade and E-commerce Governance and Necessary Actions Ahead (Michitaka Nakatomi)
3. The Risk for ASEAN of New Mega-Agreements that Promote the Wrong Model of E-commerce (Jane Kelsey)
4. E-commerce in Free Trade Agreements and the Trans-Pacific Partnership (Inkyo Cheong)
5. An Online Dispute Resolution Scheme to Resolve E-commerce Dispute in ASEAN (Keon-Hyung Ahn)
Part II: Inclusive Growth
6. Indonesia's Preparation for Digital Economy and E-commerce: Infrastructure, Regulatory, and Policy Development (Kalamullah Ramli)
7. E-commerce Adoption by ASEAN SMEs and its Domestic Challenges: Evidence from Malaysia (Noor Azina Ismail, Muhammad Mehedi Masud)
8. E-commerce Development and Internet Banking Adoption in Cambodia (Reth Soeng, Ludo Cuyvers and Morarith Soeung)
9. E-commerce in the Philippines: Gains and Challenges (Ramon L. Clarete)
10. Measuring E-readiness of Thailand in ASEAN: Macro and Micro E-commerce Perspectives (Siriluck Rotchanakitumnuai)
11. Internet Services and the Potential for Market Access for Rural Agricultural Households in Myanmar and Viet Nam (John Walsh)
Conclusion
12. ASEAN in the Digital Era: Enabling Cross-border E-commerce (Lurong Chen)
More Information
Click here to purchase the book. Hardback version available.
Related Articles