Demand and Supply Shocks of COVID-19 and International Production Networks: Evidence from Japan's Machinery Trade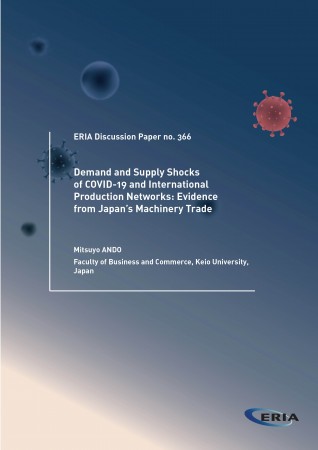 Abstract: This paper investigated the impacts of COVID-19 on international production networks in machinery sectors by shedding light on negative supply shocks, negative demand shocks, and positive demand shocks. Specifically, we examined changes in trade in the periods of falling trade during the first wave of COVID-19 using Japan's machinery trade at the most disaggregated level and decomposed them into two intensive margins, i.e. the quantity effect and the price effect, and two extensive margins, i.e. the entry effect and the exit effect. Our empirical results demonstrated that i) trade relationships for parts and components are robust, and international production networks are almost intact, so far; ii) the intensive margin, mostly the negative quantity effect, induces the largest negative effects in the transport equipment sector amongst four machinery sectors; iii) positive demand shocks for specific products that are related to teleworking, disinfection, and stay-home activities partially explain sectoral differences; iv) direct negative supply shocks from China, suggested by a negative quantity effect and a positive price effect, exist in February 2020, with possible indirect negative supply shocks and substitution of source countries; and v) negative demand shocks are confirmed from negative quantity and price effects in many cases. As of October 2020, Japan's machinery trade seems to have largely recovered. If the COVID-19 pandemic lasts long, however, prolonged negative demand shocks would hurt production networks in East Asia.
This research was conducted as a part of the project 'ERIA Research on Covid-19' at the Economic Research Institute for ASEAN and East Asia (ERIA).
Demand and Supply Shocks of COVID-19 and International Production Networks: Evidence from Japan's Machinery Trade
Related Articles