ASEAN on Point Public Forum: Tackling Disinformation in ASEAN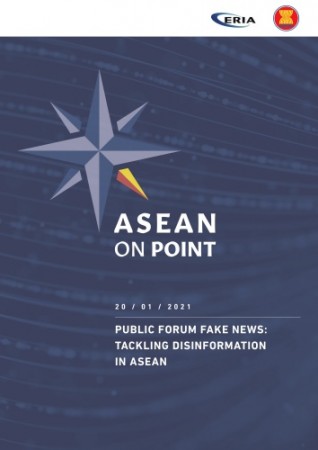 In response to the global coronavirus pandemic, the ASEAN Secretariat (ASEC) and the Economic Research Institute for ASEAN and East Asia (ERIA), created a series of public forums – 'ASEAN on Point' - to address issues of importance to the advancement of ASEAN. The forums will provide a platform to bring together representatives of diverse stakeholders to share knowledge on the latest research and insights on relevant topics on post-pandemic recovery in order to inform the policy discourse. It is hoped that the insights and recommendations from the forums can contribute to different sectoral work in ASEAN towards recovery. The vision of these Forums is to 'Build Back Better' so that the region's recovery policies result in a more resilient, inclusive, and sustainable region.
Fake news and misinformation are emerging challenges that the ASEAN Member States must address as access to the internet and digital media grows exponentially among ASEAN citizens. Data for January 2020 from We Are Social (2020) reports that the internet penetration rate in the region is 66%, which reflects a year-on-year growth of 8.2%. Social media usage is at 63%, a 7.7% increase from the previous year.
ASEAN is taking concrete steps to prevent fake news and misinformation regarding the COVID-19 pandemic that can potentially sow a climate of distrust. Since 2017, efforts to address fake news and misinformation have figured significantly in ASEAN's activities. In 2017, the ASEAN Ministers Responsible for Information (AMRI) convened a Roundtable Discussion on Fake News and Communicating the Right Information, and have since adopted the Framework and Joint Declaration to Minimise the Harmful Effects of Fake News in 2018. ASEAN also launched the Core Values on Digital Literacy for ASEAN which aims to promote greater cybersecurity as part of the efforts to counter online falsehoods.
Most recently, the AMRI adopted the Joint Statement to Minimise the Negative Effects of COVID-19 which demonstrates the region's resolve to encourage regular exchanges of official updates and information, develop regional guidelines and a common platform to facilitate timely sharing of information, enhance information mechanisms and working groups, encourage effective and transparent public communication, promote media ethics and social responsibility among media, encourage enhancement of media and information literacy and digital competencies, support use of digital technologies, encourage the development of initiatives and projects concerning risk or crisis communication, and further strengthen media and information cooperation.
Read Report Online
AoP Report Fake News by Economic Research Institute...
Download Report
ASEAN on Point Public Forum: Tackling Disinformation in ASEAN
Event Recording
Related Articles