Visit of Director-General of METI, Mr. Tatsuo Yamamoto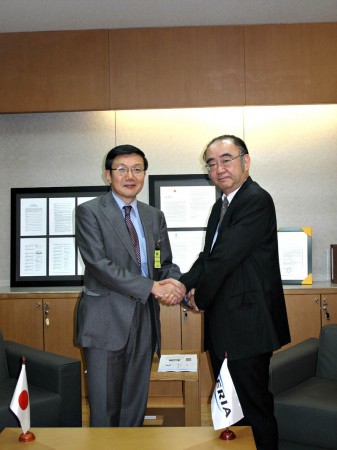 Director-General for Technical Regulations, Standards & Conformity Assessment Policy Unit of METI (Ministry of Economy, Trade and Industry, Japan), Mr. Tatsuo Yamamoto visited ERIA Annex office on March 29th , 2010.
ERIA Executive Director, Mr. Hidetoshi Nishimura gave a brief explanation of ERIA's activities, especially about ASEAN connectivity which was agreed at the 15th ASEAN Summit held on October 25th , 2009, Comprehensive Asia Development Plan (CADP) and ASEAN Strategic Transportation Plan (ASTP).
Mr. Nishimura were also briefed on the development of China in the last 10 years. China's GDP swelled 4-fold during the 2000-2010 period. "The importance of ASEAN role as the 'hub' of economic integration activities in the East Asian region is increasing. There is a high potentiality that ASEAN regions can develop in the next 10 years same as China has done in the past 10 years." he added.
CHOOSE FILTER