Vietnamese Businesses Learn about the Benefits of the ASEAN Economic Community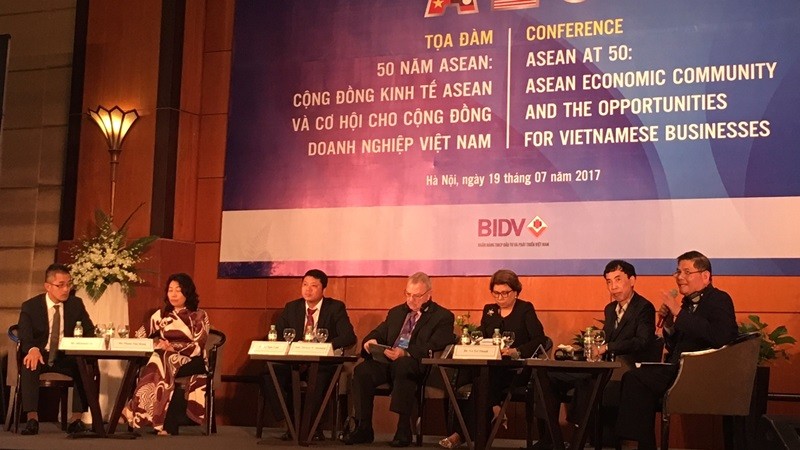 More than a year has passed since the establishment of the ASEAN Economic Community (AEC), yet businesses still know very little about the opportunities it presents.
To address this issue, the Economic Research Institute for ASEAN (ERIA) partnered with the Ministry of Foreign Affairs of Vietnam to organise a conference on 19 July 2017 in Hanoi to increase the awareness among Vietnamese businesses about the opportunities of AEC.
With over 200 representatives from the Vietnamese private and public sectors as well as scholars and trade experts, the conference provided the opportunity for knowledge sharing and discussions between the audience members and the presenters.
The Vice Minister of Foreign Affairs for Vietnam, Nguyen Quoc Dzung, opened the conference with introductory remarks, stating that only about ten percent of Vietnamese business knew about the opportunities presented by AEC. 'The ASEAN economic community, established in 2015, reflects the commitment to turn ASEAN into a common market that is open for goods and services among member states especially for the business community.' He also thanked ERIA for it strong collaboration in making the event possible.
H.E. Ambassador Le Luong Minh, the Secretary General for ASEAN, also provided opening remarks, highlighting Vietnam's important contributions to ASEAN's integration. He noted that the business community must be supported by governments to ensure ASEAN can maintain its current status as a global powerhouse. He emphasized the importance of Vietnamese businesses as part of the ASEAN community and the role Vietnam plays as 'a center of manufacturing and production with a network throughout Asia Pacific economies.'
Tan Sri Dr Rebecca Fatima Sta Maria, ERIA's Senior Policy Fellow, spoke on behalf of trade negotiators and policy makers. 'Market access is what we promised and it is what we delivered. But market access is not just about tariffs.' Non-tariff measures must also be carefully evaluated - an effort that is supported by the Non-tariff Database developed by ERIA with the UN Conference on Trade and Development (UNCTAD).
Dr. Ponciano Intal Jr, Senior Economist of ERIA, congratulated Vietnam for their contribution to ASEAN. 'By liberalising services, you are making ASEAN and Vietnam a truly competitive actor in the world.' According to ERIA research, Vietnam does well compared to other ASEAN countries in terms of good regulatory practice and regulatory management. 'You are actually a trendsetter, a precedent for success.'
Speaking on behalf of the Ministry of Trade and Industry, Deputy Director General Nguyen Quynh Nga outlined the government's efforts to assist the business community to become more competitive regionally and globally. 'We have implemented a number of measures to reduce trade barriers, and harmonize technical standards. In terms of infrastructure, Vietnam has worked together with ASEAN countries to improve infrastructure connectivity that is important to trade. Vietnam has one of the highest levels of infrastructure in Southeast Asia. We are aware of the need to reform higher education system, we are able to educate the students in terms of vocational training and English language training at the vocational training centers.'
The discussions that followed the presentations touched upon a wide array of subjects and included input for the audience as well as from the speakers. Vice Minister Nguyen Quoc Dzung concluded the conference by thanking the participants for their high level of engagement. He called upon Vietnamese businesses to continue opening up to the opportunities and pledged that the MOFA 'will continue to work with other agencies to help efforts in the future.' He also thanked ERIA and Jetro for their work, calling on ERIA to 'continue to contribute to economic integration in ASEAN.'
Image Gallery
Related Articles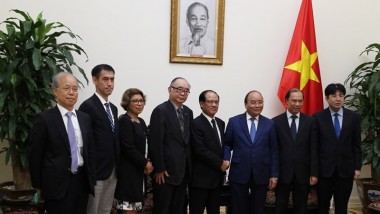 CHOOSE FILTER