Role of Asian Think Tanks Key to Addressing Global Challenges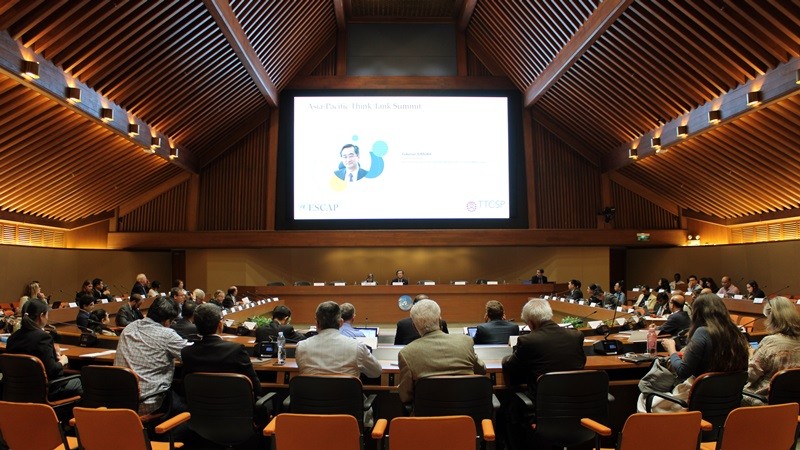 Bangkok, 12 November 2019: The Economic Research Institute for ASEAN and East Asia (ERIA) participated in the Asia-Pacific Think Tank Summit (APTTS) which was co-organised by the Think Tanks and Civil Societies Program (TTCSP), University of Pennsylvania and the United Nations Economic and Social Commission for Asia and the Pacific (UNESCAP). Held from 10 – 12 November 2019 in Bangkok, Thailand, APTTS is the pre-eminent think tank event in the region, following the successful 6th Asia Think Tank Summit hosted by ERIA the previous year.
Under the main theme 'Managing Transitions, Trade, and Turmoil: The Role of Think Tanks', over 100 influential think tank executives and decision-makers from across the Asia-Pacific attended APTTS, underscoring the event's importance to the think tank community. ERIA, a sponsor of the event, brought members from its Research Institutes Network (RIN).
APTTS opened with a President's Panel which brought together several Chief Executive Officers to discuss the topic of 'Policy Challenges Facing Policymakers and Think Tanks in Asia Pacific Region'. The panellists included the President of ERIA, Prof Hidetoshi Nishimura; the President of the Philippine Institute for Development Studies (PIDS), Dr Celia M. Reyes; and Dr Kirida Bhaophichitr, Research Director for International Research and Advisory Service at the Thailand Development Research Institute (TDRI). PIDS and TDRI are RIN members. During the panel, Prof Nishimura emphasised the importance for think tanks to balance adequate planning and swift action to support governments in today's fast-changing world.
Recent tumultuous times have also compelled think tanks and policymakers to introduce crucial propositions to support a robust Asia-Pacific. In the opening Keynote Address titled 'Sustainable Development Challenges for 21st Century', UNESCAP Executive Secretary and former ERIA Governing Board Member, Prof Armida Alisjahbana, outlined current challenges Asia-Pacific countries are facing. These include matters related to population and demographic dynamics, climate change, and technological advancement. To resolve these problems, Prof Alisjahbana underlined the significance of think tanks to encourage policymakers to create effective policies, and to engage the private sector to scale up development in the region.
With a range of global issues impacting Asia-Pacific, particularly geopolitical shifts and economic uncertainties, there have been growing calls for change to the existing global order to minimise potential ramifications. The ongoing trade war between China and the United States highlights this need for change through greater regionalisation efforts, in addition to a transformation of the Asia-Pacific region's position and role on the international stage.
Such sentiment was mentioned during Plenary Session Panel I on 'Trade Wars or Trade Winds: Which Way is the Wind Blowing?' by Chief Economist of ERIA, Prof Fukunari Kimura, who stated that 'in the long run there will be very negative effects of the trade war because of the risk of the collapse of the rules-based trading system. To prevent this from happening we must reform the WTO and the rules-based order and encourage mega free trade agreements (FTAs) like Regional Comprehensive Economic Partnership (RCEP) and Comprehensive and Progressive Agreement for Trans-Pacific Partnership (CPTPP).'
Similarly, Dr Shiro Armstrong, RIN Member, Research Fellow at the Crawford School of Economics and Government, Australian National University, and Executive Director of the East Asian Bureau of Economic Research remarked, 'To support the rules-based order and sustain our open economies, we must get our own houses in order by focusing on a more sharing the gains from globalisation and technological change across society.'
APTTS participants also took part in numerous breakout sessions and plenary panels on topics affecting Asia-Pacific such as Trade Wars, Climate Change, Diversity and Innovation, as well as Integration and Alliances in the Asia-Pacific. Prof Akiko Yamanaka, Special Advisor to the President of ERIA, President of the International Tsunami Disaster Prevention Society, and Senior Diplomatic Fellow at Cambridge Central Asia Forum in Cambridge University, served as a panellist in the 'The Coming Food and Water Crisis' breakout session. Ms Lydia Ruddy, ERIA Director Of Communications, participated on the panel 'Harnessing Technology to Enhance Research and Engage Policymakers.' Each APTTS session and panel shed light on the region's multitude of strengths that has positioned it as an economic powerhouse.
On the final day of APTTS, Prof Kimura gave a Keynote Speech on 'Digital Technology for Development' in which he prescribed that ASEAN and developing East Asia must reformulate their development strategies to address the issues of globalisation and digital technology. Prof Kimura's assessment also included a future shift to consumer/people-oriented policies as part of the economic integration process.
The day also comprised of a plenary panel deliberating on 'The Risks and Rewards of New World (Re)order'. The redefinition of world order comes at a time when alliances have shifted and the changing direction of economic development pointing to Asia. However, as Dr Hank Lim Giok-Hay from the Singapore Institute of International Affairs and Chair of ERIA Academic Advisory Council pointed out, there needs to be greater recognition of the economic centre of gravity to Asia.
Dr Hank Lim also expressed his view that global organisations like the United Nations, require support from Asia-Pacific players thus the region ought to focus on further developing trust with the international community. As the new world order will unfold in the coming decades, think tanks have the capacity to assist policymakers and the public to address potential challenges and opportunities that this unprecedented occurrence will bring.
APTTS concluded with a closing plenary panel on 'The Role of Think Tanks in Shaping the Future of Asia Pacific Region' where panellists exchanged views on how think tanks can develop key policies to strive for Asia-Pacific's continued advancement.
Led by Dr James G. McGann as Director of TTCSP at The Lauder Institute, University of Pennsylvania, panellists and participants were engaged in an in-depth discussion about the future of think tanks regarding its capability, technology adoption, and new communication channels. The session ended on a positive note with panellists trusting that regional think tanks have sufficient entrepreneurial ability in resolving these obstacles. Moreover, speakers during the session called for more collaboration and interdisciplinarity to strengthen think tanks' capabilities in the future.
The three-day APTTS event demonstrated the regional think tank community and policymakers' commitment to be at the forefront of today's important issues and finding an achievable solution for a resilient Asia-Pacific. As an event sponsor for APTTS and the 6th Asia Think Tank Summit in 2018, Prof Nishimura, on behalf of ERIA, expressed his gratitude to Dr McGann for organising APTTS, and promised ERIA's continued support for the annual event.
Related Articles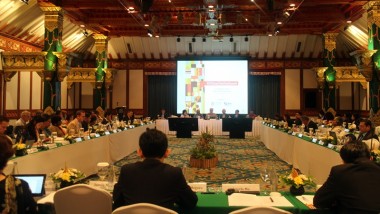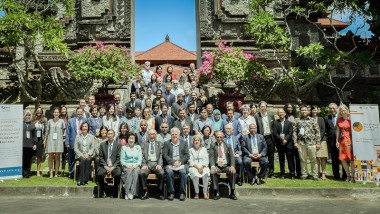 CHOOSE FILTER