President of ERIA Gives Keynote Speech at the 5th LNG Producer-Consumer Conference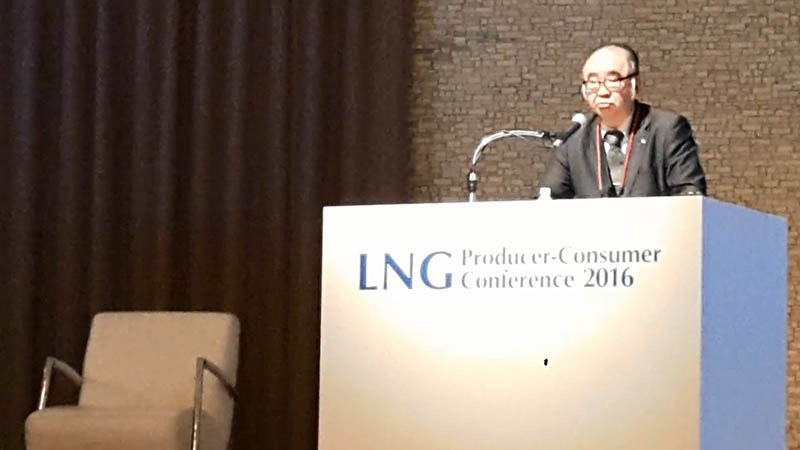 On 24 November, 2016, the 5th LNG Producer-Consumer Conference under the theme 'Pathway towards Development of Global LNG Market' was held in Tokyo, organised by the Ministry of Economy, Trade, and Industry (METI) of Japan and Asia Pacific Energy Research Center (APERC).
H.E. Mr Hiroshige Seko, Minister of Economy, Trade, and Industry for Japan, gave his opening address, in which he underlined the importance of the sustainable use of liquefied natural gas (LNG). Minister Seko also stated that there has been an oversupply of LNG in the global market; therefore, gas market integration is needed to sustain the stable supply of LNG in the medium and long term.
Professor Hidetoshi Nishimura, President of the Economic Research Institute for ASEAN and East Asia (ERIA), was invited as a keynote speaker of the session 3: Keynote Speech by Ministers on Emerging LNG Market in Asia.
'As the ASEAN Plan of Action for Energy Cooperation (APAEC) 2016-2025 was recently released, the ASEAN strategy for natural gas is to gradually move towards integrated natural gas market, through the implementation of so-called Trans-ASEAN Gas Pipeline, or TAGP. Importantly, LNG is now considered as the future virtual pipeline. Investment in LNG terminals, especially regasification facilities in the region, is emphasised,' said Professor Nishimura in his speech.
The full day conference consisted of six sessions and was attended by about 1,000 people from the industry sector, government officials, international organisations, and academia from various countries.
CHOOSE FILTER