Post 'Bogor Goals' Vision Emerges from APEC Multi-Stakeholder Dialogue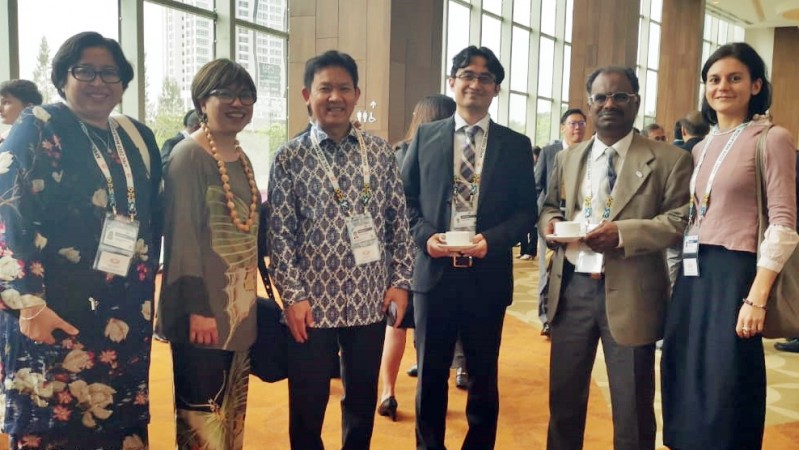 Putrajaya, 18-19 February 2020: The APEC Multi-Stakeholder Dialogue on Post-2020 Vision (MSD) aimed to promote discussion between Senior Officials from APEC Member Economies, speakers and panelists, business sector representatives and other stakeholders to develop a shared APEC Post-2020 Vision. Themes that emerged included the need for a new post-Bogor Goals Vision beyond 2020 that includes a more robust monitoring of progress, innovation and technology readiness, skills and human resources for the digital economy in particular for MSMEs, participation of women in the economy, climate change, food security, circular economy, waste to energy.
Participants and speakers included senior officials from the Ministry of International Trade and Industry (MITI) Malaysia, Andre Omer Siregar (APEC SOM from Indonesia), Eduardo Pedrosa (Secretary-General, PECC), Surina Shukri (CEO, Malaysia Digital Economy Cooperation – MDEC), Gunn Jorid Roset (Ambassador of Norway to Malaysia), and also representatives from the business sector (Microsoft, Google, IBM). ERIA's delegation comprised Dr Intan Ramli, Policy Fellow; Dr Venkatachalam Anbumozhi, Senior Energy Economist; Dr Han Phoumin, Energy Economist; Dr. Rashesh Shrestha, Economist; and Dr Giulia Ajmone Marsan, Director for Strategy and Partnership.
During the MSD, ERIA delegates shared their views in support of new APEC coordination mechanisms for Member Economies in dealing with the increasing number of non-tariff measures, fostering international regulatory cooperation and good regulatory practice, reducing inequalities, enhancing investments in low-carbon assets, and achieving SDG targets.
On the 18th of February, ERIA representatives participated in a Round Table Discussion on 'APEC Post-2020 Vision,' whose main theme was 'Optimising Human Potential Towards a Future of Shared Prosperity.' Under this theme, there were three substantive priority areas: (1) Regional economic integration and changing the narrative of trade and investment, (2) Inclusive economic growth through digital economy and technology, and (3) Harnessing innovative sustainability. The Roundtable was organized by the Institute of Malaysian and International Studies (IKMAS) of Universiti Kebangsaan Malaysia (National University of Malaysia) which is supporting the Malaysian government to develop its APEC Post-2020 Vision. The workshop was opened by Prof. Sufian Jusoh, Director of IKMAS; other participants from IKMAS included Prof. Muhamad Noor Yaakob, Member of the APEC Vision Group for Malaysia, Prof. Andrew Kam Jia Yi, and Prof Rashila Ramli. Also sharing their views were Mr. Lawrence Todd from Institute for Democracy and Economic Affairs, and Dr. Jasmine Begum of Microsoft Malaysia.
During the roundtable, Dr. Ramli in Priority 1, outlined key recommendations and actions to support the vision of 'Free and open trade and investment and deeper regional economic integration, while promoting people-centred economic growth that is innovative, inclusive, sustainable, balanced, secure and resilient.'
For Priority 2, Dr. Shrestha discussed the topic of inclusive economic growth through digital economy and technology, highlighting the impact of technology on the economy, various dimensions of inclusivity and need for active policies such as education reform, skills development, and social protection.
For Priority 3, Dr. Anbumozhi brought in the perspectives of climate change and food security as well as circular economy in support of APEC Vision 2040 priority areas. He emphasized the need for developing business continuity plans along food value chains to make them resilient. Integrating Industry 4.0 dimensions into Circular Economy bring tangible sustainability benefits for APEC, he mentioned during the interventions.
Dr. Phoumin explained how the practice of 'waste to wealth', whereby waste is converted into products that can be put to use (e.g. energy), is an increasingly important issue for APEC economies. Waste management and technology are critical to ensure waste to wealth is implemented. However, the lack of understanding and poor management of waste can cause health and environmental problems.
Since late 2018, ERIA has been actively contributing to APEC Malaysia 2020, particularly in developing themes such as the future of work, sustainable economic transition and inclusive growth, food security, and sustainable energy. Connecting ERIA to APEC Malaysia 2020 is also an important focus of the ERIA Australia-funded Strategy and Partnership programme. ERIA will continue to support Malaysia's 2020 APEC Chairmanship towards the successful realization of the MYAPEC2020 deliverables.
Related Articles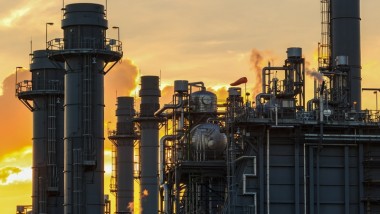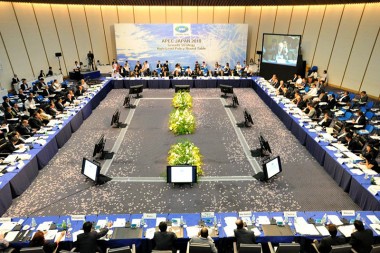 CHOOSE FILTER