Natural Gas Crucial as Global Energy Transition Efforts Poised to Intensify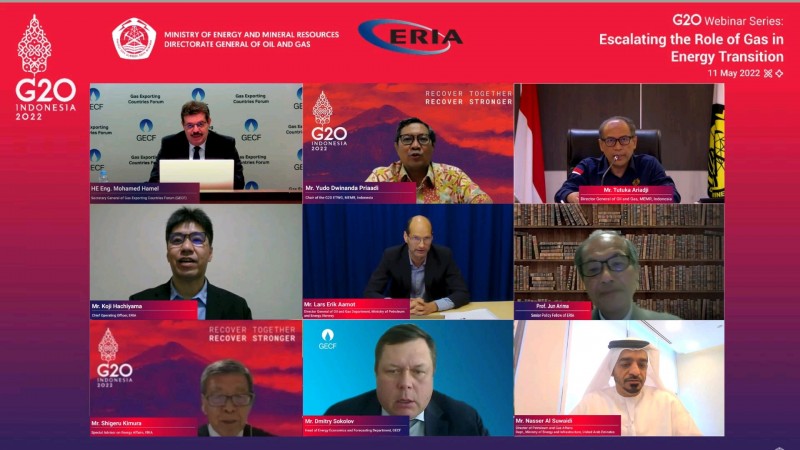 Jakarta, 11 May 2022: The inclusion of natural gas in the global energy mix will be integral as the world deepens its energy transition process and increased energy demand in the future becomes inevitable. Economic and population growth poised to occur in the Asia Pacific and other regions will significantly intensify energy consumption. These trajectories come amidst the backdrop of net-zero commitment targets by 2050 by the Global 20 (G20) states as well as ASEAN Member-States. To resolve the challenge of striking a balance between clean energy targets and ensuring affordable energy, the role of gas is especially crucial.
Mr Yudo Dwinanda Priaadi, Chair of the G20 Energy Transition Working Group, provided his opening remarks and underscored the possibility for gas to act as a reliable clean energy source and a source for power generation. Natural gas is not only a lower-carbon alternative, but it is also easy to store and can provide an 'uninterrupted and flexible energy supply,' making it an attractive energy source for developing and developed countries. Mr Priaadi stated that gas energy can aid in the eradication of energy poverty – especially in the Global South – given how 760 million people globally have inadequate electricity access and 2.5 billion are without clean cooking access. In the lead-up to a net-zero emissions future, the combination of natural gas with Carbon, Capture, Utilisation, and Storage (CCUS) technology has shown promising potential in accelerating decarbonisation initiatives. Although natural gas is not a one-size-fits-all solution for the ongoing challenge between clean energy transition and increased energy demand, it complements measures to develop sustainable energy systems.
In his keynote speech, Mr Tutuka Ariadji, Director-General of Oil and Gas of Indonesia's MEMR shared insights concerning Indonesia's mid- and long-term gas demand and supply. Indonesia has utilised natural gas for domestic use since 1965 and currently, over 60% of national gas production is used to meet domestic demand – driven mostly by the industry, electricity, and fertiliser sectors. The government is aiming to reach the target of 12 billion cubic feet per day in natural gas production by 2030 and for natural gas to make up a 24% share of its national energy mix by 2050. To realise its energy security and domestic demand goals, the Indonesian government continues to enhance the infrastructure development of gas pipelines and promote research and development. For Indonesia to reach its ultimate objective of net-zero emissions in 2060, Mr Ariadji extended the government's invitation to investors to participate in the country's gas development. He added, 'The Indonesian government offers the ease of doing business and supporting facilities from regulations, licensing, fiscal and non-fiscal incentives.'
In a keynote speech, H.E. Eng. Mr Mohamed Hamel, Secretary General of the Gas Exporting Countries Forum (GECF) presented thorough information regarding mid- and long-term global natural gas demand and supply, and emphasised the pivotal role that natural gas is expected to play in satisfying world energy needs, whilst contributing to air quality improvement in cities and to climate change mitigation. H.E. Mr Hamel stated that, while affordability and climate change were at the forefront of the energy debate in the past year, recent developments in eastern Europe have 'renewed attention to a third issue, energy security.' While the implication of the events on the future of energy systems are not yet apparent – in the mid-term – there is a possibility for further expansion of liquified natural gas (LNG) trade, enhanced investment in upstream and downstream natural gas, and a rise in supply costs and long-term gas contracts. According to H.E. Mr Hamel, future energy pathways will vary from one country to another, however, 'natural gas is the energy that fits most pathways.' Natural gas as an energy source can address the problem of indoor pollution, improve air quality, reduce deforestation, and provide the necessary backup and stability to power grids. Gas-powered generation will play an especially critical role in Southeast Asia as it transitions away from coal-fired power generation and turns to renewables.
H.E. Mr Hamel also recognised the potential of CCUS which 'could make the objective of net-zero emissions a reality', thus underscoring the need to provide policy support and to facilitate technological deployment and transfer to developing countries. For emerging markets in Southeast Asia, around 300 million tonnes (MT) of CO2 could be abated by 2050 from coal-to-gas switching, however, with CCUS, the potential can reach 800 MT or nearly 85% of the power sector's emissions. Policy support, stability, and predictability are components that are necessary to take a step forward toward a carbon-neutral world including one with natural gas at the forefront of energy security. HE Mr Hamel congratulated ERIA for establishing the Asia CCUS Network and expressed the readiness of the GECF to cooperate with this collaborative platform.
In his presentation about the global low-carbon energy transition, Mr Jun Arima, Senior Policy Fellow, ERIA also noted the importance of CCUS and Carbon, Capture, and Storage (CCS) technologies for mid- to long-term decarbonisation in ASEAN. He added that 'if ASEAN Member-States successfully switch from coal to natural gas, the latter is still a fossil fuel so for complete decarbonisation, CCUS is an absolute necessity.' The conflict in Ukraine and skyrocketing gas prices could discourage coal-to-gas fuel switching hence coal could remain longer as part of ASEAN's energy mix than previously expected. Mr Arima suggests Southeast Asia establish a regional hub that could promote regional cooperation and achieve economies of scale to cut down costs for the carbon-abating innovation.
The event also featured a panel discussion as well as a question and answer (Q&A) session - moderated by Mr Shigeru Kimura, Special Advisor on Energy Affairs, ERIA – which sought to deepen insights on the various pathways to escalate the role of natural gas. Before opening the discussion session, Mr Kimura called for the gradual reduction of CO2 emissions annually and highlighted how gas will be a crucial alternative in curtailing greenhouse gas emissions and in the shift from coal to gas power generation.
Mr Lars Erik Aamot, Director-General of Oil and Gas Department, Ministry of Petroleum and Energy, Norway shared the European perspective on gas. The mix of the COVID-19 pandemic and the Ukraine conflict has brought to light Europe's need for gas in the coming decades for emissions reduction and energy security reasons. Countries in the European Union hardly produce any gas and as a region, EU's import dependency for gas is on the up and is mostly imported through pipelines and as LNG. Mr Aamot additionally explained how natural gas combined with CCS in the longer term 'could become a significant source of clean hydrogen and ammonia', and Norway - with 25 years of experience with CCS and offshore storage - is ready to deliver if a market is establihsed in Europe of beyond. During the Q&A session, Mr Kimura inquired about the effect of environmental, social, and corporate governance (ESG) on upstream investment in the oil and gas sector. Taking Norway's experience in the area, the impact could be that capital becomes more expensive for some parts of the industry, but Mr Aamot reassures that there will always be capital available despite the ESG criteria.
Mr Nasser Al Suwaidi, Director of Petroleum and Gas Affairs, Petroleum and Gas Affairs Dept., Ministry of Energy and Infrastructure, United Arab Emirates (UAE) provided insights regarding the role of natural gas in his country. The UAE is aiming to become gas self-sufficient by 2030 and to achieve this, the government has focused on upscaling conventional gas operations by expanding additional resources and enhancing the commercial availability of unconventional gas. The UAE's Gahsha Mega-Project exists to facilitate the government's self-sufficiency vision with expected production to exceed 1.5 billion standard cubic feet of natural gas daily by 2050. Mr Suwaidi briefly mentioned that the UAE is further exploring blue ammonia that will utilise gas in the production process.
In his presentation, Mr Dmitry Sokolov, Head of Energy Economics and Forecasting Department, GECF reaffirmed that there are signs of an increasing pace of energy transition and technological advancements that will 'unleash the great potential of natural gases and fuel and help to satisfy the growth needs of the world in clean energy.' He added, 'Under many scenarios assessed, the consensus is that natural gas will play a crucial role.' Blue hydrogen is another solution to secure a sustainable energy future and Mr Sokolov stated that the GECF is confident nearly half of the possible hydrogen exports in the future can be supplied by its member countries.
During a conversation with Mr Kimura concerning GECF's move to boost gas production, Mr Sokolov reassured the audience that the organisation's member countries develop natural gas resources to benefit producers and consumers. Mr Sokolov stressed that the GECF operates transparently and details regarding expanding gas production are outlined in the 'GECF Global Gas Outlook 2050.' Moreover, he called for a reassessment of 'discriminatory policies towards natural gas' that has caused restrictions on some necessary investments.
Mr Rakhmat Asyhari, Executive Vice President of Oil and Gas, PT Perusahaan Listrik Negara (PLN) addressed the Indonesian state-owned company's energy transition progress in his presentation. PLN is looking to decrease the use of coal and increase the use of gas in its power generation strategy where the company's total power generating capacity in 2030 will be nearly 100 gigawatts (GW) including 25.6 GW of installed capacity generated by gas-fired power plants. Mr Asyhari revealed that PLN is focusing on eastern Indonesia for the expansion of gas infrastructures of its power plants as it is less developed than western Indonesia. Most of the new gas-fired power plants are in scattered areas that are far from a gas source and have limited generation capacity thus PLN acknowledges the need to create a gas or LNG supply chain to ensure affordability.
Mr Asyhari shared during the Q&A session that PLN is monitoring and evaluating CCS and CCU technologies for hydrogen production, adding the company's readiness to utilise them when the tech becomes more economically sound. Further, Mr Kimura prompted Mr Asyhari about current high energy price and its impact on PLN's gas-fired power generation strategy. According to Mr Asyhari, the company has sufficient gas and LNG volumes sourced domestically and fulfils the target volume set by the Indonesian government.
H.E. Dr Siri Jirapongphan, Former Minister of Energy, Thailand shared his country's power generation profile which has been driven by natural gas since 1980. The Thai government recognised its over-reliance on natural gas in its energy system and has moved towards diversifying its energy source by increasing the proportion of renewable resources. Harnessing hydropower electricity, photovoltaic power, and LNG as well as expanding the use of biomass, biogas, and municipal waste is part of Thailand's ongoing energy diversification initiatives. Dr Jirapongphan particularly underlined his country's solar photovoltaic advancements that have successfully supplied around 10% - 15% of peak power demand during the daytime. In the Q&A session, he clarified that the Thai government remains steadfast in its net-zero 2050 commitment thus currently high gas prices encourage the country to further invest in modern approaches such as existing photovoltaic systems. Dr Jirapongphan shared his hope that Thailand's experience could serve 'as an example in encouraging developing economies to employ natural gas as a baseload power generation in the transition to a higher proportion of renewable energy power system.'
Mr Kimura closed the panel discussion session by encouraging upstream investments and expanding renewable energy sources beyond gas. Nonetheless, gas is essential in the clean energy transition period followed by CCUS retrofitted coal-fired power plants after 2040 as the next step to realising a net-zero world.
Mr Koji Hachiyama, Chief Operating Officer, ERIA gave the closing remarks capping off key points of natural gas in the energy transition process. Mr Hachiyama suggested forging international cooperation in order for developing countries to boost gas consumption for power generation. He closed his speech also underscoring the importance of new investment in upstream gas and adequately preparing to deploy CCUS to significantly reduce greenhouse gas emissions.
The Economic Research Institute for ASEAN and East Asia (ERIA) - the secretariat of the Asia CCUS Network (ACN) - co-hosted the G20 Side Event Series entitled 'Escalating the Role of Gas in Energy Transition' on 11 May 2022. As the main host, the Ministry of Energy and Mineral Resources (MEMR), Directorate General of Oil and Gas, Republic of Indonesia gathered a distinguished group of policymakers and industry players to discuss how natural gas can abate carbon emissions and serve as a more stable future energy supply.
Related Articles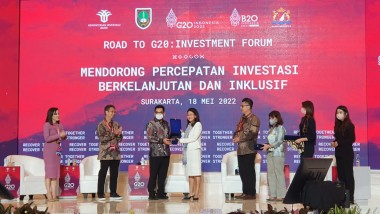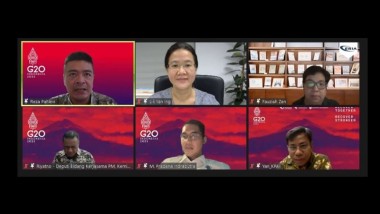 CHOOSE FILTER