Nader Habibi Discusses the Role of the Middle East in China's Belt and Road Initiative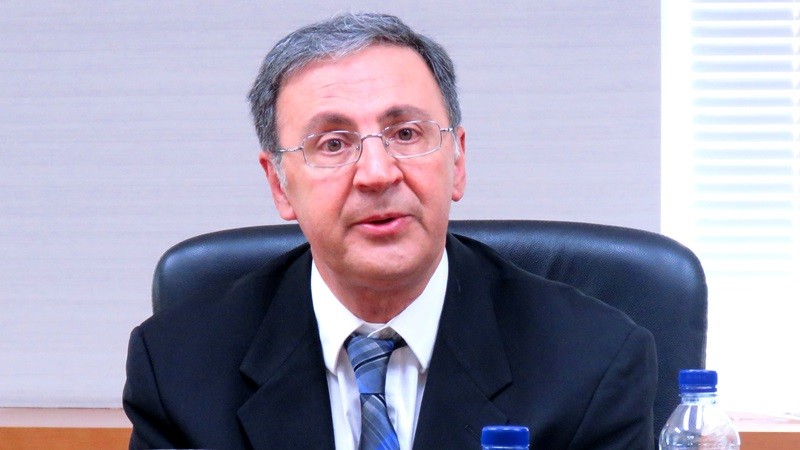 China's Belt and Road Initiative (BRI) increasingly dominates headlines across Asia, with opinions about how Asian, African, and even European countries can partake in manners that benefit their own regions. However, the Middle East, the region that seems key to the success of many of these linkages, rarely appears in the discussions.
Thus it was with great appreciation that on 10 August the Economic Research Institute for ASEAN and East Asia (ERIA) was able to host a discussion on the subject with Prof Nader Habibi, the Henry J. Leir Professor of Practice in the Economics of the Middle East at Brandeis University's Crown Center for Middle East Studies, Massachusetts.
ERIA's Chief Operating Officer, Izuru Kobayashi, stated in his opening remarks that it would be interesting to learn about Prof Habibi's perspective on the Middle East and BRI (previously known as One Belt One Road initiative--OBOR), especially as China considers its relationship with the Middle East to be very important for its economy.
In his speech to the World Economic Forum earlier this year, China's President H. E. Xi Jinping showcased China's strategy to engage with the world. Avoiding politics, diplomacy, and military might--the traditional strategies of global heavy-weights--China's focus is pure economics. 'In the face of both opportunities and challenges of economic globalisation, the right thing to do is to seize every opportunity, jointly meet challenges, and chart the right course for economic globalisation,' said President Xi.
A few months later, China hosted the Belt and Road Forum for International Cooperation, hosting leaders from around the world to discuss China's BRI that aims to improve land and maritime routes for a more efficient global infrastructure network that connects China to Africa, Europe and beyond.
Amidst China's efforts to promote BRI and the current geopolitical situation in the Middle East, Prof Habibi's presentation 'Is the Middle East Ready to Join the Silk Road?' gives an interesting insight for the audience, which includes the Canadian Ambassador for ASEAN H.E. Marie-Louise Hannan.
Before Prof Habibi delivered his presentation, he acknowledged the presence of Ambassador Hannan in the discussion by praising Canada's stance and policy in the world today. He then began his presentation by elaborating on China's interest in the Middle East which includes oil and natural gas; export and investment opportunities, especially trade with the Gulf Cooperation Council (GCC); land transport alternatives; and the Middle East and North Africa (MENA) region as a logistic and transport route to access Europe and Africa. He also looked into the history of China and Middle East countries relations including China-Arab cooperative strategic plan in 2014 and China's geopolitical neutrality, a policy done with respect to Middle East Countries.
The next part of the discussion shifted the focus onto the importance of Asia for MENA countries. There are several reasons why Asian countries have become more important economic partners for MENA countries. First, Asia's demand for oil is strong due to an increase in industrialisation among Asian countries, which offset the decline of oil demand from the US and EU countries since the US opted to be self-sufficient and EU countries shifted its energy mix to include more renewable energy. Second, MENA is happy with Asian neutrality in geopolitical issues. Third, there is a bilateral investment interdependence in which China invests in GCC oil upstream, whereas GCC invest in China's oil downstream. Prof Habibi also pointed out that should MENA decide to join BRI, they will benefit from purchasing China's inexpensive export products.
Although the two parties seem to be benefiting from their relationship, challenges remain. According to Prof Habibi, the expansion of BRI into MENA countries could result in tensions with the US, increasing the risk of incurring sanctions, increasing the risk of military confrontation in the Persian Gulf, and disrupting trade in the region, among other challenges.
He concluded the presentation by answering the main question of the discussion on whether Middle East is ready to join OBOR. He stated that MENA might not be ready to join OBOR as a coherent and a stable block of nations. However, many MENA countries have incentives to join OBOR because the project is believed to be beneficial for both parties. Moreover, China's financial and technical assistance for these countries is significant. In his opinion, the consequences remain inevitable, nevertheless, as multiple conflicts will affect progress and foreign power intervention would lead to a more active China in regards to their geopolitical policy.
Image Gallery
CHOOSE FILTER