Myanmar Expects Development through Foreign Direct Investment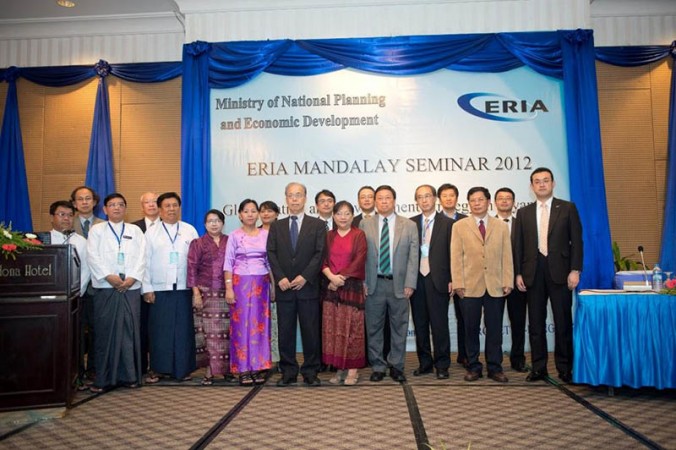 Mandalay, September 28, 2012 - "A series of reform measures are being done in order to improve social economic capacity and better investment. Focus on globalization and development of Myanmar in order to make Myanmar to be ready by 2015 to join ASEAN Economic Community (AEC).
This is the right time for Myanmar to push forward," said Dr. Khin San Yee, Deputy Minister, Ministry of National Planning and Economic Development, during her speech in one day seminar in Mandalay, Myanmar.
The seminar "Globalization and Development Strategy in Myanmar toward ASEAN Economic Integration" was organized by the Economic Research Institute for ASEAN and East Asia (ERIA), the Ministry of National Planning and Economic Development of the Republic of the Union of Myanmar and Yangon Institute of Economics, with the support from Mandalay Region Chamber of Commerce and Industry, Bangkok Research Center (BRC), JETRO Bangkok, and JETRO Yangon.
The seminar aims at providing updated information and experiences on the East Asia Region and Myanmar to policy makers, academia, and business associations by international and Myanmar's experts.
The Mandalay seminar is part of the two seminars conducted by ERIA. The second one will be held at Nayphidaw on October 1-2. During the Third Mekong Summit between Japan, Thailand, Myanmar, Laos, Vietnam and Cambodia, Japan pledged to come up with Myanmar Comprehensive Development Vision (MCDV) to assist the country's future economic development.
The open seminar discussed five topics: 1) Trade and Investment Driven Growth in East Asia: Implication for Myanmar; 2) Small Medium Enterprises (SMEs) and Current Economic Situation in Japan; 3) Industrialization Strategy in Myanmar and Myanmar Comprehensive Development Vision (MCDV); 4) Supply Chain Network in East Asia: Opportunity and Challenges for Myanmar; 5) Recommendation to be an Engine for Global Growth- Towards Vital Economic Integration. More than 140 participants from government ministries and agencies, regional think-tanks, and private sectors attended.
"We have to keep pace with the ASEAN countries," said Dr. Khin San Yee, Deputy Minister of National Planning of Economic Development during the opening remarks. She said this is the right time for Myanmar as the East Asian and ASEAN economic are facing challenges from global economic conditions. "We want to be part of ASEAN Economic Community," she added.
Prof Yasuhiro Yamada, President of JETRO Bangkok, concurred by saying that it would take some time for Myanmar's economic development but he expressed confidence that the country will overall all obstacles. He said that Economic Research Institute of ASEAN and East Asian (ERIA) is helping Myanmar to map out a comprehensive economic development plan. "We will do everything we do to help Myanmar," he reiterated.
Leading regional economists also take part in the seminar including Professor Shujiro Urata of Waseda University, Dr. Mitsuhiro Kagami of Teikyo University, Dr. Nipon Paopongsenakorn, president of Thailand Development Research Institute, Prof. Toshihiro Kudo, economist of Institute of Developing Economy.
The seminar closed by U Aung Win Khaing, President, Mandalay Region Chamber of Commerce and Industry. He said Myanmar is rich in natural resources but need skill and technology. So Mandalay should invite foreign investors to interest in Myanmar. It also has a good environment for investment and business. He added Myanmar trade policy is transparent and open.
To download the press release, click on the following link.
Myanmar Expects Development through Foreign Direct Investment.pdf
CHOOSE FILTER