How Can Indonesia Manage Uncertainties?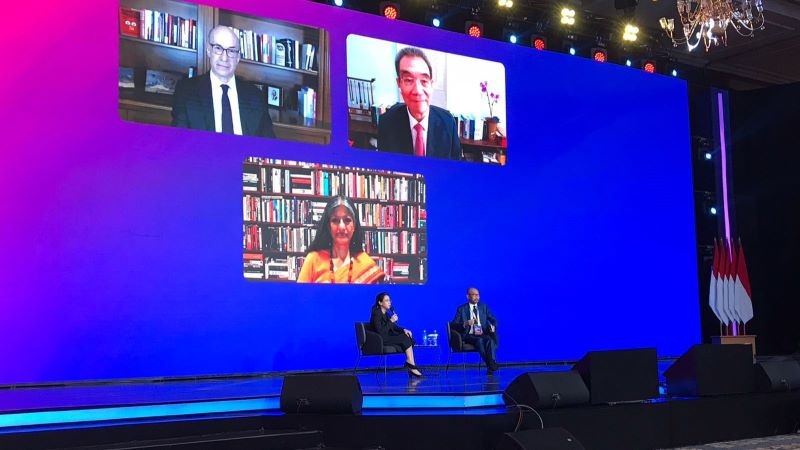 Jakarta, 11 October 2022: The Investor Daily Summit 2022, held on 11-12 October 2022 at the Jakarta Convention Center in Jakarta, Indonesia, highlighted the theme 'Optimism in Uncertainties'. The conference discussed a wide range of sectors, from government to business, to address the challenges of global economy and how to navigate our economy in the mid of those challenges.
The Summit was opened by the President of Republic of Indonesia, Joko Widodo, and attended by several ministers and high-level speakers: Mr Luhut Binsar Pandjaitan, Coordinating Minister of Maritime and Investment Affairs of Indonesia; Mr Airlangga Hartarto, Coordinating Minister for Economic Affairs of Indonesia; Mr Erick Thohir, Minister of State Owned Enterprises of Indonesia; Dr Sri Mulyani Indrawati, Minister of Finance of Indonesia; Mr Mahendra Siregar, Deputy Minister for Foreign Affairs of Indonesia; and Mr Bahlil Lahadalia, Minister of Investment of Indonesia. The first session highlighted Indonesia's Strategy to face Global Uncertainty.
Dr Lili Yan Ing, ERIA's Lead Advisor for Southeast Asia Region, chaired the first session on the Global Economic Outlook, with high-level speakers: Professor Kenneth Rogoff, Professor of Economics at Harvard University; Professor Justin Yifu Lin, Founding Director of China Center for Economic Research; Professor Jayati Ghosh, Professor of Economics at Jawaharlal Nehru University; and Dr Chatib Basri, Chairman of PT Bank Mandiri.
The Global Economic Outlook session discussed the current global economic situation, especially in major economies, and the impact of current geopolitical tensions on the global economic outlook. Global economic growth stalled in the second quarter of 2022. The prolonged US-China economic and technology tensions, the war in Ukraine, food and energy driven inflation, tight monetary policies around the globe, and the COVID-19 pandemic have exacerbated long- standing issues of rising inequality and climate change, creating unprecedented challenges for Indonesia's economic outlook. Inflation in the OECD countries might rise further reaching more than 9%. Tightening monetary policy also drives the slowing world economic growth due to greater-than-expected overshoot of inflation targets. Now the main concern of all countries is how to raise optimism despite uncertainty for the future, including Indonesia's economic outlook.
During the session, on Indonesian economy, Dr Ing stated that 'Indonesia does not have any privilege in fiscal, we do not have high ratios of tax revenue to GDP, the ratio of our tax revenue to GDP only ranged between 8-9% in 2019.' Indonesia needs to maintain its tax revenue, particularly during the recovery phase from COVID-19 pandemic. Despite the limited fiscal space of Indonesia, Dr Ing assessed that 'the good thing about the Indonesian economy is that we have prudent fiscal policy. By law, we need to maintain the fiscal deficit at 3% of GDP, during the pandemic, we relaxed it to 6%, but next year, Indonesia aims to have it back to only 2.9% of GDP.' According to Indonesia's State Revenue and Expenditure Plan for 2023, the Ministry of Finance has targeted a fiscal deficit of 2.8% of GDP in 2023 as an effort for the country to maintain its fiscal stability.
Dr Ing also stated that 'one thing we should pay more attention to is on our trade and investment. On trade, it is true that Indonesia's trade recorded trade surpluses of USD16 and USD32 billion consecutively in 2020 and 2021 and estimated to record USD44 billion this year. First, the increase was due to increase in commodity prices, not with our export performance (neither value added in exports). The volume of our exports indeed declined by 50 million tons in 2020 and 169 million tons in this year alone. Second, there has been decreasing in imports of machinery and raw materials or inputs. On investment, just in this semester, developing countries recorded capital outflows of USD50 billion in responding to increased interest rates in developed countries. Indonesia cannot just do business as usual; Indonesia should take serious actions to improve exports and maintain investment as those are key to maintain employment and purchasing power, particularly working-class society.'
Dr Ing offered suggestions for Indonesia to increase its revenue, 'First, increase export levies on sectors that have been advantaged by windfall in energy and commodity prices (Palm and Coal) and second increase custom and tax on cigarettes and luxury goods (private jet, yacht, cars, and others).' As a closing remark, Dr Ing highlighted 'Well it is good for business to be optimistic, but it is crucial for the government to be realistic and credible. The Indonesian government should take into account the worst scenarios and how the government will respond to that situation.'
Image Gallery
Related Articles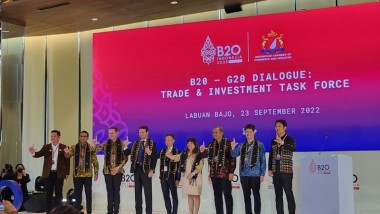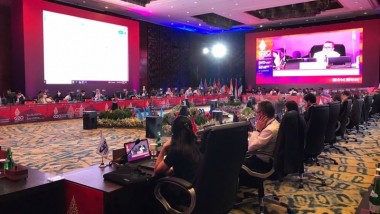 CHOOSE FILTER