Future of Work in Asia Conference Focuses on Technological Advancement, Forward Looking Entrepreneurship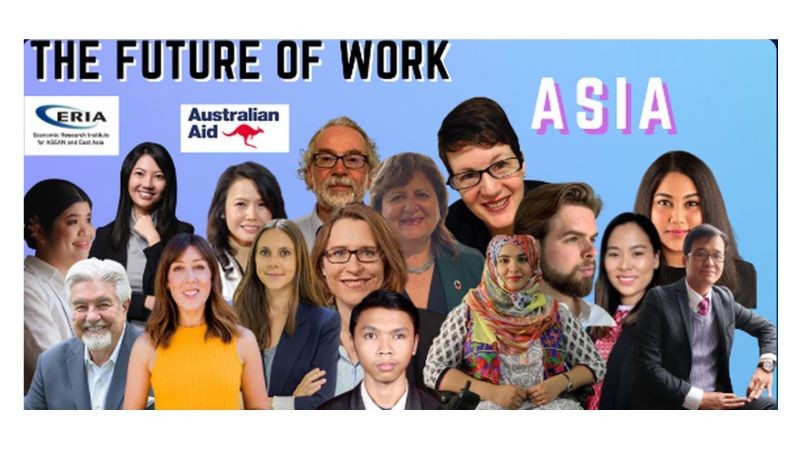 Jakarta, 29 September 2022: Key challenges and opportunities to promote inclusive growth were the focus of The Future of Work in Asia 2022, an online conference hosted by the E-S-I Knowledge Lab of the Economic Research Institute for ASEAN and East Asia (ERIA) and The Asian Network.
Speakers made the following points. The Asian market and labour forces have evolved rapidly due to augmented technology innovation. Technological advancement has contributed to the increased level of market productivity, new job creation, and digitally enabled entrepreneurship. However, automation risk is inevitable, resulting in replacement of traditional jobs and demand for new skills. Shifts in skills demand might harm vulnerable groups, including women, people in rural areas, and people with disabilities. Policymakers need to address skills shortages and gaps by ensuring equitable and equal access for workers and employers to reskilling and upskilling. Therefore, a set of policy agendas with a multi-stakeholder approach to establish an inclusive and conducive ecosystem is required to prepare a future-ready workforce.
The conference had four sessions.
Session 1: Enhancing Innovation in Rural Areas
In her opening remarks, Anne Lochoff, Programme Director of Singapore Agri-Food Innovation Lab at Nanyang Technological University Degree, highlighted the importance of the digital dimension, innovation for future competitiveness, and sustainability in enhancing productivity in rural areas. She said innovation improves connectivity and generates mutual benefits between urban and rural areas. She added that universal basic needs are some of the primary factors that often drive rural innovation.
Chimka Mukhbayar, Chief Executive Officer (CEO) of Nomads Agritech Innovations (Mongolia), identified the main challenges for local farmers who want to innovate: access to information, finance, and market. She reported that she had developed a digital application to help farmers obtain information more easily, advance production, and commercialise business. She added that training in digital skills and literacy is required to optimise the benefits of information and communication technology innovation in rural areas.
Saran Song, CEO of Amru Rice Co. Ltd. (Cambodia), said it is important to apply inclusive business models that incorporate social protection for rural farmers. He explained the importance of social protection to prepare for the next uncertainty, such as inflation and geopolitics, that might disturb the supply chain. He said technology is effective in building trust and transparency between producers and consumers.
Diane Le Goff, Global Leader for Youth Education and Entrepreneurship, Schneider Electric, cited four key elements to promote an innovation ecosystem: fundamentals of education and skills, innovation entrepreneurship, access to funding, and a set of policy frameworks with a multi-stakeholder approach to rural development. She noted that digitalisation could provide more access to education in rural areas, allowing people to upskill but added that low technologies need to be deployed in rural areas as an initial easy step.
The session was moderated by Ravindra Ngo, Founder and CEO of The Asian Network.
Session 2: Technology Disruption and the Future of Jobs
In his opening remarks, Bob Aubrey, Founder and Chair of the Advisory Board of the ASEAN Human Development Organisation, noted the current trend of workers, especially Gen Z, not wanting to be treated as capital but as human beings. To build a sustainable workforce, he said net positive principles are important to allow organisations to embrace innovation by investing in a people-centric, purpose-driven culture, and an environmental, social, and governance approach.
Susanne Bieller, General Secretary of the International Federation of Robotics, enumerated the benefits of the robotics industry in supporting human work, mostly in manufacturing, agriculture, and services. She added that technology aims to enhance the quality of human life by supporting, not replacing, human work. She said that educational curriculums should include digital skills and encourage curiosity to inspire more women to learn about science, technology, engineering, and mathematics.
Jess Northend, Policy Lead at the Tony Blair Institute for Global Change, described how deep technologies have transformed the labour market, provided tangible benefits, and unlocked new socio-economic opportunities. She elaborated some government strategies to develop skills by establishing a pipeline to enhance local talent, attract global talent, and build a conducive entrepreneurship ecosystem. Innovation, she stressed, requires balancing hard and soft skills.
Saowaruj Rattanakhamfu, Research Director for Innovation Policy for Sustainable Development at the Thailand Development Research and Institute, said that today's technology for good drives more sustainable solutions for future work in enhancing human capability, improving labour productivity, addressing labour shortages, and increasing human connectivity. However, she noted that automation risk might replace traditional and routine tasks and advised policymakers to resolve this problem by promoting lifelong learning to continue reskilling and upskilling.
Session 3: Managing Disability in the Workplace
Stefan Tromel, Senior Disability Specialist at the International Labour Organization, said that fostering more people with disability (PWDs) at work would be a game changer in changing society's mindset about them. With the shifting demand for skills in the workforce, he said, PWDs' career development must be ensured. He emphasised the importance of riding the waves of change to eliminate physical and mental barriers.
Made Wikandana, Disability Inclusion Officer of the United Nations Children's Fund, Indonesia, stated that the biggest barrier for PWDs in the workforce is stigma and prejudice. They are often the first to be fired and the last to be hired. He stressed that PWDs must have growth mindset to keep pace with the Fourth Industrial Revolution. He shared the ongoing effort of UNICEF Indonesia to mainstream the disability inclusion strategy through a set of capacity-building activities involving youth and women with disabilities.
Nunu Supaanong, Secretary-General of the ASEAN Autism Self-Advocacy Network (Thailand), noted that PWDs at work still lag behind in ASEAN countries, although most have established policies to promote PWD inclusion. She added that it is critical to build awareness and establish a multi-stakeholder approach to overcome this cross-cutting issue. She said an inclusive business approach is important to empower PWDs, provide them with a friendly and accessible working environment, and improve their quality of life.
Tanzila Khan, Founder of Girlythings, Pakistan, underscored the need to provide a physically and psychologically safe environment for PWDs to flourish at work. She added that although some programmes have kick-started PWDs' understanding of the job market, sustainable employment must be provided. Referring to her own entrepreneurial journey, she noted that PWDs still encounter several barriers to access. It is pivotal, she said, to ensure that PWDs have equal access to the market and information.
The session was moderated by Lina Maulidina Sabrina, ERIA's Senior Programme Officer.
Session 4: New Work Models and Entrepreneurship
Fiorina Mugione, Regional Director at the Galway Development Services International Limited, explained how entrepreneurship can give rise to innovative solutions. She mentioned trends that involve technology adoption, increased social enterprises that have meaningful impact, and an increasing number of young and women entrepreneurs, particularly in Asia. She stressed the importance of training and mentorship to support entrepreneurs and help them develop soft and interpersonal skills. Entrepreneurship, she concluded, is not a solo journey but requires partnership, networking, and collaboration.
James Sancto, Co-Founder and CEO of We Make Change, explained that impact entrepreneurship includes being driven by purpose and not profit, being unrestricted by legal status, and being led by different types of entrepreneurs from various interdisciplinary backgrounds. Impact entrepreneurship, he added, will provide scalable solutions to address global challenges and achieve the Sustainable Development Goals by 2030. He said collaboration needs to be embedded in all economic aspects and allowed to connect different types of skills.
Mallory Loone, Founder of Work Inspires, said understanding self-value, resiliency, and networking is important to becoming entrepreneurs. She observed that next-generation key trends prioritise balance between scalable impact and profit, resulting in a growing number of social enterprises. She said a net positive approach must be embedded in business models.
Madhavi Shankar, Co-Founder and CEO of SpaceBasic Inc., shared the cross-cultural experience that shaped her problem-solving skills and allowed her to build global products. She narrated how she built SpaceBasic to simplify student housing communities through automation and digitisation. She noted that the current trend in India is dominance of young people, robust access to information and communication technology, high penetration of smartphones, and growing talent for innovative businesses.
The session was moderated by Giulia Ajmone Marsan, ERIA's Director of Strategy and Partnership.
ERIA and CIIE.CO Building Prolific Entrepreneurship Ecosystem- Episode 1
Related Articles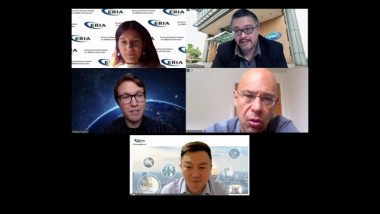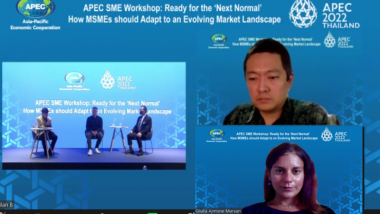 CHOOSE FILTER