From Challenges, Imperatives and Adjustments on ASEAN Beyond 2015 and the Philippines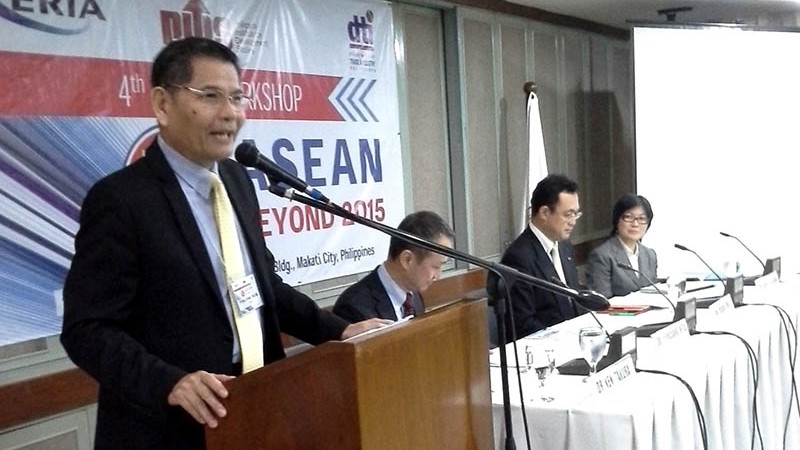 The fourth and final leg of workshop series on ASEAN and AEC Beyond 2015 was finally conducted successfully by Economic Research Institute for ASEAN and East Asia (ERIA) in cooperation with the Philippine Institute for Development Studies (PIDS) and supported by the Department of Trade and Industry (DTI) Philippines at NEDA sa Makati Building, Makati City, Philippines.
The Manila-leg workshop brought up the focus on ASEAN deepening integration in East Asia and the world. The workshop covered a range of topic, from Challenges, Imperatives and Adjustments on ASEAN Beyond 2015 and the Philippines; Deepening ASEAN Integration in East Asia and Pacific; to Strengthening ASEAN Institutions and Voice.
Mr. Yasushi Iwata, the General Manager of ERIA, opening the workshop by offered a silent prayer for the souls of all the victims of typhoon Yolanda in the Philippines and prayers for those who keep struggling to retain life after affected by the typhoon. Mr. Iwata also gave his sincere gratitude for all the attendants in the final-leg of the workshop series after previous workshop in Jakarta, Kuala Lumpur, and Yangon. He recalled the importance of the workshop series as the AEC 2015 is getting nearer and the discussion from government sector, private sector, and academia will play an important role. Lastly, Mr. Iwata also wished the workshop will have accounted and fruitful discussion in order to make valuable policy recommendation to the political leader in the region.
A number of prominent speakers, discussants, and moderators attended and gave their insight during the workshop. As the focus in the Philippines, Dr. Rafaelita Aldaba, the Vice President of PIDS, presented the roadmap of Philippines new industrial policy and AEC 2015, motivated by the increasing globalization and regional economic integration through the AEC 2015 and the need to upgrade Philippines industry as the best way to achieve inclusive growth, create jobs, increase income, and reduce poverty in the country. Dr. Aldaba, quoted Lewis, A. (1955), stated that it is possible for a nation to take a new turn if it is fortunate to have the right leadership at the right time and she strongly confident this is the right time with the right leadership in the Philippines.
In the closing session, Mr. Ceferino Rodolfo, the Assistant Secretary of DTI, explained the importance of negotiation process for ASEAN integration especially the negotiation of the Regional Comprehensive Economic Partnership (RCEP). Mr. Rodolfo also stated that by deepening the integration within ASEAN this will also deepening the integration with the world, and vice versa.The final leg of the workshop was attended by more than 90 participants from relevant ministries and departments, academia, international experts and other stakeholders with an active discussion from all the participants throughout the session.
To download Press Release, please click on the following PDF file:
From Challenges, Imperatives and Adjustments on ASEAN Beyond 2015 and the Philippines
CHOOSE FILTER