Executive Director of ERIA attends Delhi Dialogue VI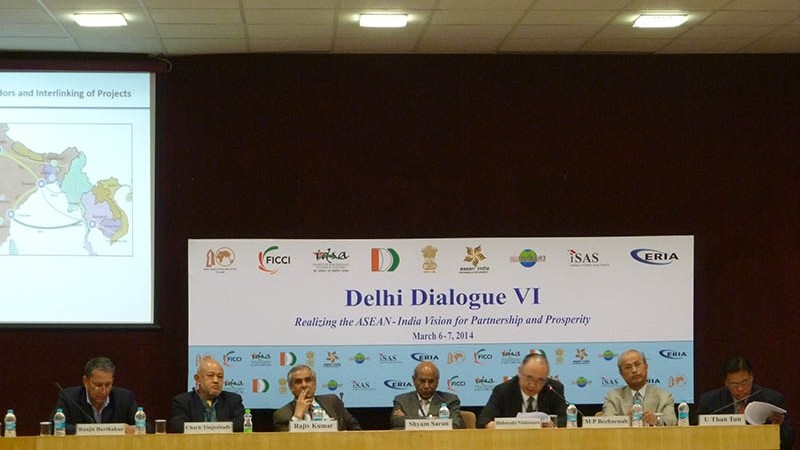 Prof. Hidetoshi Nishimura, Executive Director of ERIA, was invited to the Delhi Dialogue VI which was held on March 6-7, 2014 in New Delhi, India. The theme for this year was "Realizing the ASEAN-India Vision for Partnership and Prosperity".
The Delhi Dialogue is an annual international conference of political and economic leaders, officials, academics and opinion-makers of ASEAN countries with their Indian counterparts to discuss how to intensify and broaden political, strategic, economic and civil society interaction between ASEAN and India.
The Dialogue was organized by the Ministry of External Affairs, Government of India. H.E. Mr. Salman Khurshid, Minister of External Affairs of India, H.E. Mr. Anand Sharma, Minister of Commerce and Industry of India, H.E. U Wunna Maung Lwin, Minister of Foreign Affairs of Myanmar, H.E. Mr. Thongloun Sisoulith, Deputy Prime Minister of Lao PDR, H.E. Dato Hamzah Zainudin, Deputy Minister of Foreign Affairs of Malaysia, H.E. Mr. Le Luong Minh, Secretary General of ASEAN and other high level officials attended the event.
The topics of discussion for this year's Dialogue included the 'Role of North East India in India's Look-East Policy,' and 'Regional Architecture in Asia Pacific: Roles of India and ASEAN.'
Prof. Nishimura gave a special update on "India-ASEAN Connectivity: A Renewed Look at North East India and Myanmar as the Key to India-ASEAN Connectivity" in the session 2 on "Role of North East India in India's Look-East Policy". He spoke on India-ASEAN Connectivity and how the North Eastern India can successfully participate in enhancing this connectivity. He raised the importance of domestic connectivity in India and Myanmar and lowering of trade and transport barriers as prerequisite for successful India-ASEAN connectivity. He also highlighted the importance of Mekong-India Economic Corridor (MIEC) and its effect on increasing Gross Regional Domestic Product (GRDP) in the region. He concluded to say that "the ASEAN India connectivity will lead to regional integration among the growing economies in East Asia, positively impacting the growth of all economies."
CHOOSE FILTER