ERIA's "Supply Chain Network" Seminar with Prof. Todo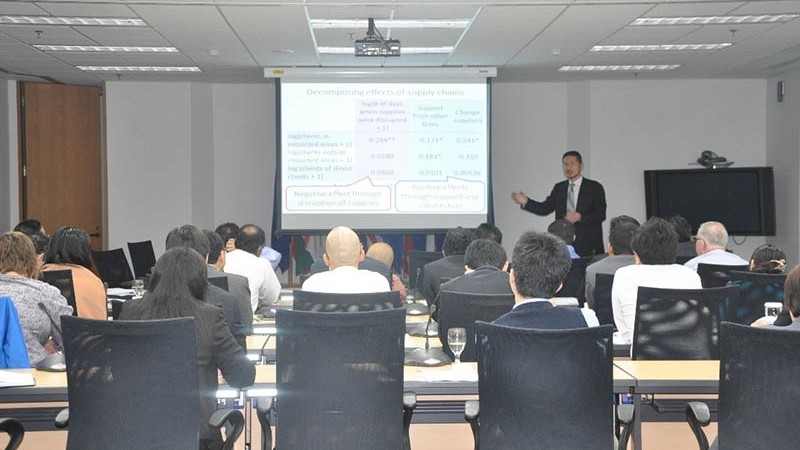 The Economic Research Institute for ASEAN and East Asia (ERIA) organized a "Supply Chain Network" seminar on 10 March 2014, inviting a prominent economist, Prof. Yasuyuki Todo, Professor and Department Head, Department of International Studies, Graduate School of Frontier Sciences, University of Tokyo.
Prof. Todo presented his new paper, "How Do Supply Chain Networks Affect the Resilience of Firms to Natural Disasters? Evidence from the Great East Japan Earthquake," wherein he examined both positive and negative effects of supply chains in the recovery of Japanese firms from the Great East Japan earthquake through statistical analyses based on two firm-level datasets. The conclusion of the paper is that diversified supply chain networks provided economic resilience to natural disasters, with the positive effects of supply chains exceeding the negative effects. The results showed that networks with firms outside of the impacted area contributed to the earlier resumption of operation, and networks within the region contributed to sales recovery in the medium term.
Twenty-five researchers from various institutions, including ERIA, and officials from the government sector actively participated in the seminar. The moderator, Prof. Fukunari Kimura, Chief Economist of ERIA, closed the seminar by noting that the approach of the paper has a possibility of being applied to the study of supply chain networks in developing countries.
CHOOSE FILTER